Autumn Reeser is beautiful, there is no doubt about it. She's a successful actress, a career woman, and an amazing wife and mother. The thing that sets her apart most, though, is how incredibly intelligent she is. You can see the spark in her eyes, the sharp wit and excitement she has about life and learning and sharing.
Our favorite topics of discussion are inevitably equality, gender, successes and failures, to name a few- and they are some of the best conversations I've ever had. Every time we talk I walk away with new ideas and discover more about myself.
Knowing Autumn has been such a source of inspiration for me, and I'm thrilled to share her insight with you as well.
Do you identify as a feminist?
My sister and I were raised with what I consider to be feminist values in our home: follow your bliss, girls can do anything boys can do. I grew up camping, I had a pocket knife, I read voraciously; we certainly weren't coddled or told we were princesses. But growing up in the '80s and '90s, from a cultural standpoint the word feminist took on a negative light for me, because I saw it related to a "all men suck" trend that made me confused and sad. The women seemed loud and crude and I didn't identify with any of that, and I didn't like the bullying that seemed to go along with it, so it scared me away from ever wanting to be associated with feminism. As an adult, I've realized that break-out phase was necessary in order for women to establish ourselves strongly in the place we do today, and although I still don't identify with those particular ideals, I appreciate its existence.
I've realized that I do have traditionally feminist values, but I also enjoy the softer sides of feminism, and so I suppose I think of myself as a "femme-inist." I realize that's kind of an annoying term, but it also conveys my personal truth. I prefer a quieter kind of feminism: I do live a feminist lifestyle (my husband and I share childcare duties, I'm a working mother, I portray strong women in traditionally male career paths), but I also like certain things that have in the past been viewed as anti-feminism, such as dresses, marriage and high heels. I think I'm part of a generation that's saying, "I don't have to give up my love of the 'feminine' in order to be a feminist."
Your website, MoveLifeStyle, is a wonderful place for women to share experiences and support one another. What made you take the leap and create an online community?
Initially, I found an online community when I was planning my wedding in 2008 and from there I branched out into reading other blogs and websites, and was inspired by how many women's voices were out there. I was particularly amazed at the visibility of stay-at-home moms, whose hard work and sacrifice have been invisible for a large degree in the media and on a larger cultural scale, partially because of how isolating and all-consuming the task of raising children can be in America since the 1950s. But here they were, a huge community, sharing their experiences, finding time to write and be creative at night after their families had gone to bed and showing up in droves to support each other.
I was inspired by the possibility of the Internet unleashing a new rising wave of sort of unintentionally feminist voices, of women unafraid to share their stories and make themselves visible in a world where they didn't have to ask for permission or get approval that their experiences were worthy enough for publication. With Move LifeStyle, we're trying to bridge the gap between light lifestyle and current workplace issues affecting women. We focus on work life balance, we talk about and share articles on current women's issues in the workplace, but we also find the prettiest new office supplies and have a lot of fun on Pinterest. I find oftentimes women want a soothing place to unwind and soak up beautiful imagery, and they aren't going to feminist websites to do that. We're an after-work cocktail with a dose of vitamins snuck in.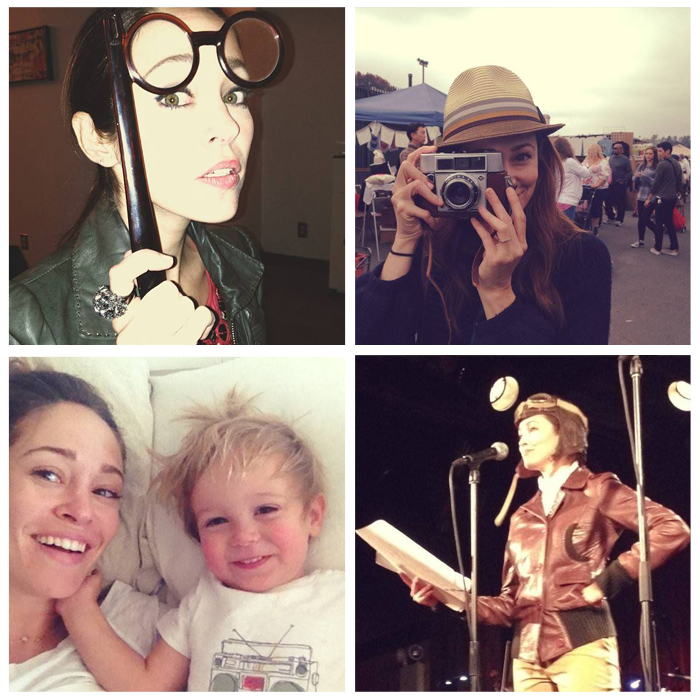 @Autumn_Reeser
What changes would you like to see to accommodate women who want to be both mothers and fixtures in the workplace?
We need a lot more structured support. The realities of childbearing for women in the workplace have yet to be truly addressed. What we culturally think of as typical workplace hours are actually typical workplace hours for a male with a stay-at-home wife. 9-5 simply does not work for modern families where more than 12 million households are supported primarily by a female breadwinner. We have to come up with more flexible work hours, better paid maternity leave for women AND for men, and first and foremost, a louder cultural dialogue about the realties of a family life when a woman wants to work an pursue a career. The men can't bear the babies, and that means if we value women's voices and presence in the workplace, we need to look at the different realities she faces, since she doesn't have a stay at home wife.
The cultural conversation needs to change for men, too. I often say, "They told women we could have it all, but someone forgot to tell the men," and what I mean by that is, men have not been prepared by our culture to make the changes in their homes that are required to support a family where both partners work. Many of today's men were raised by stay-at-home moms, and they understandably bring that attitude of wanting to be cared for into their marriages with women who want a career and it sets up a difficult battle. My husband and I have worked very very hard to learn to play on an equal playing field in our home, but since we were both raised by stay at home moms, it has been work to change our ingrained expectations. Luckily the hard work has paid off, and now in my thirties, I feel so supported by my husband both at home and in my career, and I think he feels the same way.
What women have inspired you in the past?
I'm first and foremost an actress, so I'll give you a quick list of actresses I admire: I've always loved Audrey Hepburn's grace, I love Rosalind Russell's directness, Meryl Streep's candor, Betty Davis's power. For years I was quite intimidated by Katharine Hepburn, but now I'm hugely inspired by her and her tomboy, no-nonsense, do-what-you-want persona.
What books would you suggest to someone who wants to learn more about the women's movement?
I loved Gloria Steinem's Revolution from Within absolutely changed my life; Composing a Life by Mary Catherine Bateman- who happens to be Margaret Mead's daughter; and of course, Betty Frieden's The Feminine Mystique is sort of required reading in the feminist canon. Also watch the PBS Makers series, and the documentaries "Half the Sky" and "Who Does She Think She Is?" which are all fantastic pieces of art making women's struggles more visible.
Who is a modern day feminist you admire?
I really like Sheila Kelly, the founder of S-Factor, who is helping women reclaim their 'S', their sacred/sexuality/sensuality, through a doorway that we've been told for years is aimed at men. Although technically it's pole dancing fitness, she's reclaiming that space for women, allowing them to be strong, extremely sexual, and in touch with their Erotic Creature. She's also in a long marriage with two kids and her willingness to talk openly about how they make it work, their love life and her still-hot passion for her man is so inspiring, too.
Follow Autumn on Twitter @AutumnReeser and on Instagram @Autumn_Reeser.
Photo Credit: Maarten deBoer