Elizabeth Plank, a self-proclaimed "feminist crusader" and an outspoken activist for women's issues, has been popping up everywhere lately. You've seen her amazing pieces on PolicyMic, covering topics from sexism in Hollywood to the violence trans people face in America. She's also been featured on MSNBC, where she talked great feminist moments of 2013 with Anna Holmes and Krystal Ball. And even more recently she discussed the war on women with Rev. Al Sharpton.
One of her projects that resonated most with me personally was her Google experiment, where she took actual Google autocomplete responses and juxtaposed them with images of prominent modern day feminists. The resulting imagery was powerful, and highlighted the anger and vitriol aimed at women and the feminist movement today.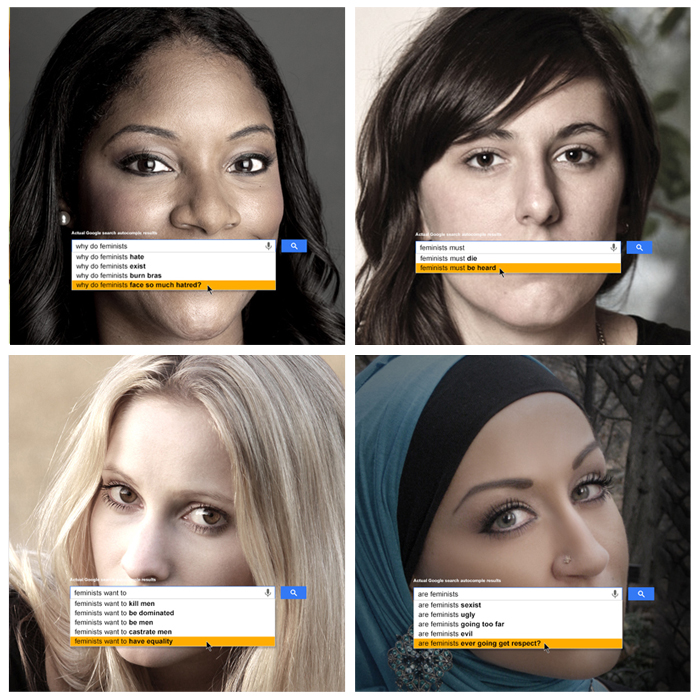 How do you define feminism?
Feminism is an individual and personal journey that every person must define for themselves. It's not about conforming to a set of constraining standards, it's about liberating yourself from them. A common misconception is that feminism is just about benefiting women, when in reality, the movement's goal is to elevate the status of everyone. If you give a woman agency, everyone around her benefits. When you liberate a woman, you can liberate a whole village. Never in the history of the world has empowering women ever backfired. It's as simple as that.
What would you say to women who are reluctant to identify as feminists?
I guess I would encourage them to think about why they feel reluctant in the first place. Who are you afraid to upset? Those people might matter, but I think you matter more. At first, it might feel uncomfortable to label yourself as a feminist, but the more you do it, the better it feels. I promise! Jaclyn Friedman once told me that feminism should be a relationship barometer for the people in your life. She was right. Whoever can't accept the fact that you're a strong and opinionated woman is simply not worth my time.
How can we improve equality? What do you find is lacking most?
Women have made great strides in recent years, but we're still light years away from where we should be. As we become closer to reaching parity with men, it's imperative that we pay attention to the status of all women, not just the status of the women at the top. Again, feminism is about elevating everyone, so if some women are getting ahead on the backs of others, we need to think about why that is and how we can fix that. In our discussions about women in the workplace and the wage gap, we need to address the fact that the pay discrepancy between women of colour and white women is still way too steep. When we speak about the importance of childcare for working women, we need to think about who will end up doing that labor and for what wage. When we seek equality between men and women, we have to make sure that we're not widening the inequality amongst women as a group.
What advantages do you think you have because you're a woman? Have you ever felt held back by your gender?
As a girl, I was never raised to bottle up my emotions and hide my feelings. Too many boys still grow up in a culture where they are told to hide behind the mask of masculinity. However, I've often been labelled as "too emotional" and have been treated differently because of that. It's annoying that we view emotion as something inherently negative. We are all emotional creatures and pretending otherwise does everyone a disservice.
What can women do to be more supportive of one another?
It's hard because we've built a world that teaches women to be threatened by each other. There's still very few spaces at the top and women are often forced to compete for those positions. It's a shame, but I think it's going to change as we see more women in leadership positions. In my experience, some of the best mentors I've had have been women. Just in the last year, female powerhouses in New York City like Susan McPherson, Rachel Sklar and Glynnis MacNicol have made an invaluable difference in my life. I hope I can do as much for others as they have done for me.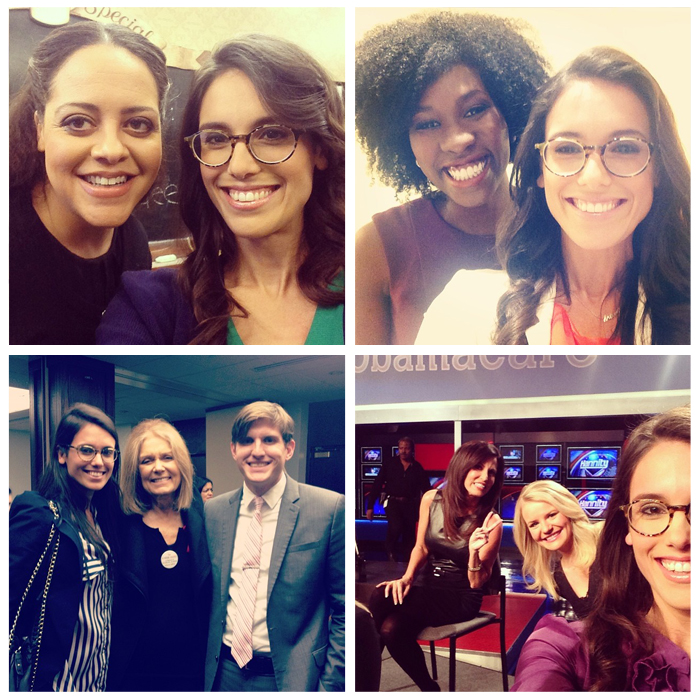 Follow Elizabeth on Instagram @Feministabulous.
What women inspire you?
Too many to keep count. Recently, I've looked up to women like Melissa Harris-Perry, Zerlina Maxwell, Krystall Ball and Irin Carmon for speaking so eloquently about feminism on cable news. I've also been inspired by women like Beyoncé, Tina Fey and Amy Poehler who've really managed to infuse feminism into the entertainment and music industry.
What books or media have had an impact on your life?
Feminist blogs like Jezebel and Feministing really shaped the way I think and write about feminism so I'm really excited about Anna Holmes' The Book of Jezebel. I also totally geeked out in college with books like Feminism is for Everybody by bell hooks, Female Chauvinistic Pigs by Ariel Levy and Full Frontal Feminism by Jessica Valenti. I'd also recommend Half the Sky: Turning Oppression into Opportunity for Women Worldwide by Nicholas D. Kristof and Sheryl WuDunn and The She Spot: Why Women are the Market for Changing the World by Lisa Witter and Lisa Chen. I've also read Bossy Pants like 13 times. No shame!
Do you have a "Lean In" moment?
One of the most important lessons I recently learned is that if you don't value your work, no one will. Negotiation used to make me feel inherently icky until I realized that it's absolutely necessary. After I learned that most women don't negotiate their salary on the first job, I was like "Wait, I have to negotiate!?" It hadn't even occurred to me that it was something I could do. While men are taught to value their accomplishments, women are often taught to diminish them. That's not the kind of world I want young girls to be growing up in. As women, we have a responsibility to make sure those patterns are disrupted, and valuing our work is a huge first step in that direction.
What would you do if you weren't afraid?
Write a book? Dance like nobody's watching? Star in my own feminist flashmob? Take a selfie with Hillary Clinton? Photobomb Amy Poehler? Sorry, there would just be way too much to choose to from!
Follow Elizabeth Plank:
Twitter: @feministabulous
Facebook: Elizabeth Plank
Instagram: @feministabulous