As a trendsetting entrepreneur, Freya Estreller has managed to dominate two American obsessions: ice cream and booze. Her first company, Coolhaus, which she co-founded with Natasha Case, is "architecturally-inspired" gourmet ice cream. With catchy names like I.M. Pei-nut butter, plus an ice-cream-mobile like nothing you've ever seen, they're leaving an indelible mark on an industry whose most interesting advancement was previously the introduction of cookie dough.
Her latest venture, Ludlows Cocktails, is proof that she isn't afraid to embark on any journey, no matter how unchartered the territory. Their "jelly shots" are tasty, fun and, as luck would have it, conveniently purse-sized.
Estreller clearly has a creative spirit and a brilliant business mind, but her dedication to helping other women see their professional dreams come true is where she makes her biggest impact.
How did you know you had an idea big enough to take the leap and go for it?
My first job out of college was as a Project Manager at Ryan Homes, a large top 10 homebuilder in the US. I learned a lot about training programs, employee retention, corporate culture, managing others, budgeting, and how to build large scale projects. I implemented what worked there at Coolhaus, my first business — creating a pro forma business model first, growing margins through economies of scale (meaning for us, if we wanted to get off the trucks and have the business support our salaries, we needed to have multiple trucks and revenue streams), systems and supply chain management, and building a strong brand via company culture. As for a big enough idea, Coolhaus started off as an art project, but we saw a viable business opportunity because no one had reinvented the ice cream truck yet. Same with my second business, Ludlows Cocktail Co. and our first product line of craft cocktail Jelly Shots – no one had elevated and reinvented the jello shot. I prefer to target a niche and dominate it.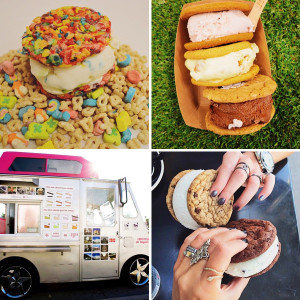 Images via @Coolhaus
What's the best thing about being your own boss?
When I don't feel like doing something, I can just not do it. It's not the end of the world. I can hire someone else to do it or do it at a better time for me. It took me 5 years to learn that, though. I would beat myself up about not getting everything done, not being everywhere I thought I needed to be. I'm beginning to enjoy the work/life balance of being my own boss.
What is it like to be a female business owner in such a male-dominated industry?
It's interesting and sometimes straight-up infuriating. I'll go to an alcohol industry trade show or event and all the women there are promo girls and bartenders. There really aren't very many female or millennial owned beer or spirits brands. In a sense, starting a spirits brand is my ode to Feminism! And, I think initially there are advantages to being a woman, like being able to charm a buyer or exec into sitting down with you at a meeting. But, it's definitely a man's world and we as women don't get taken very seriously. Men are always surprised that I'm the owner or founder and often feel the need to give unsolicited advice. It's patronizing.
What is your biggest "success" moment to date?
Launching my second business. Ludlows Jelly Shots just hit shelves this last October at Total Wine & More and Fresh & Easy, two big chain accounts. I had spent a year and some change working on the recipe, packaging, fed approvals, marketing, etc. and without a real salary, so that was a momentous occasion for me. I'm ready to start my 3rd business. Bring it.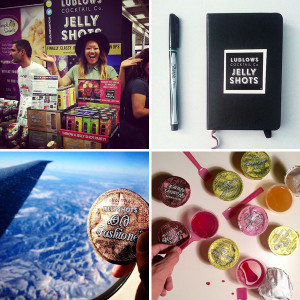 Images via @LudlowsOfficial
How do you think women can be more supportive of one another?
Being mentors and coaches to one another. I see more and more of this, especially with women-led and focused industry/networking groups like The Toklas Society founded by Sue Chan, Momofuku's Brand Director and The Unique CAMP founded by Unique LA/SF/NY founder Sonja Rasula. It's empowering and I've made it my personal mission and platform to help other young and female entrepreneurs any way I can.
How has feminism played a role in your life?
With age and experience, I've become more of a feminist. I've realized that sexism will stop only when there are enough women at the top, especially in male-dominated fields. I want to be at the top — own and invest in other female run companies, be on boards, maybe run for office one day — so I can chip away at that and do my part.
Who inspires you?
Hillary Clinton and Richard Branson — both badass and disruptive.
What books or media have had an impact on your life?
That first season of GIRLS was ground breaking. I have so much respect and admiration for Lena Dunham and how she just puts it all out there, no fear. I'm also a huge fan of Mindy Kaling and the ladies of Broad City. Cheers for more female show runners.
What's your favorite thing about yourself?
That I'm slightly bi-polar. It's also the thing I hate most about myself, but I've learned to use it to my advantage.
Check these out:
Coolhaus
Instagram @Coolhaus
Twitter @Coolhaus
Ludlows Cocktails
Instagram @LudlowsOfficial
Twitter @LudlowsOfficial