I remember the first time I heard about Obvious Child, a romantic comedy featuring an abortion storyline, I was bursting with excitement. I had to wait months to finally see the film, and with each passing week my expectations grew exponentially. When I sat down in my seat, by myself but with about 50 other journalists, I feared I'd set myself up for failure. A classic case of setting the bar too high.
When I walked out of that theater, however, with my face red from laughing and crying— maybe even somewhat maniacally for a person in a room with dozens of strangers- all I wanted to do was turn around and see it again. Then text every girl I'd ever known to make sure she sees it, too. As soon as possible.
This movie changes the landscape of film the way Broad City has forever changed television. Obvious Child has taken women's issues from underwear to unplanned pregnancy and made them OK. I genuinely walked out of the building feeling a little lighter and maybe even a little more comfortable in my own skin.
Gillian Robespierre's work crafting both this story and the film, is nothing short of masterful. For a first-time director, she absolutely hit every mark- and then some.
How were you able to create a character that was so likable, even with all her flaws, while tackling these issues that we don't normally (ever) see represented in film?
Well, thank you, yeah, all the writers behind Obvious Child, I think, are very thoughtful and extremely funny humans. Everyone involved in the film, I think, in their real life and when we sat down to write Donna, tried to combine that balance between humor and real life. And we wanted to tell Donna's story, we always wanted to tell her story within the classic romantic genre but we wanted to modernize that story.
We wanted the leading lady to have the funniest lines, and the most complex story, and a person who sounded like us and who looked like us, and shared our vernacular, and who feels and does real things in a real world, you know, but who's also allowed to be funny and crass and gentle at the same time. I don't think you're one or the other, you know, I think we are always a combination of all of those things.
We also wanted her to dress like somebody who is struggling financially. She lives with her roommate, Nellie, played by Gaby Hoffmann, and when she goes to home to her apartment, she's going to take her outside clothes off and she's going to wear sweatpants and tank tops with no bras on, and it's the dead of winter, but Donna Stern only has one winter coat. There's no discussion there, no one has three winter coats. At least, nobody who works at a bookstore does.
So I think everything from how she spoke to her parents to how she was really confident on stage, but off stage we made her softer. I think it takes a lot of guts to go out on stage. I have stage fright, and I would never be able to do that, but Donna does, and she can, and she has a confidence that allows her to do that, but off stage she has a whole different set of emotions and complexities that don't give her the same kind of confidence that performance does.
And we just wanted to humanize choice, really, and we wanted to do that through comedy and through all the characters in Donna's world.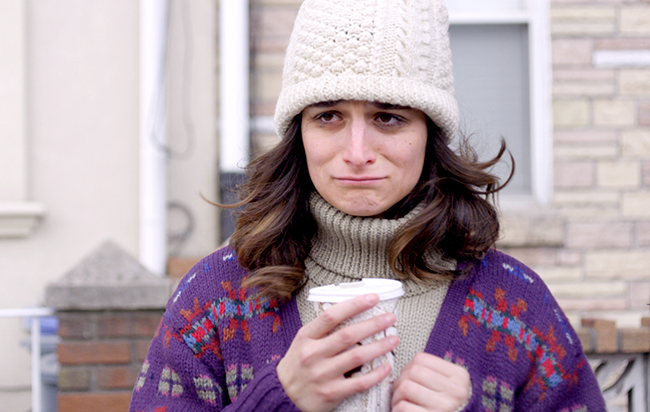 What do you love most about Donna?
I like that she's…like that she's not pretentious. You know, I think she says and does what she feels and she doesn't really have a censor on stage. Off stage, she's a little more timid, but when she's on stage, she doesn't have a sharp tongue. She's more self-deprecating. I don't think she would ever be sarcastic or use a joke in her humor to do evil.
I like that she's comfortable with her body. We never really talk a lot about how she feels fat or ugly or less than. It's her self-deprecating humor and her sort of bawdiness just fits, but she doesn't hate herself. I think she lacks confidence and she just got dumped and there's definitely part of her that feels like it's her fault, and she feels like a victim and hasn't really been an active participant in her own life. But I really like that despite all of the phases that she's going through, she really does have an inner confidence, she just has to figure out how to trust it.
What do you want people to feel after they've seen the film?
I want them–I just want this movie, like what you said when we just first started chatting, like you wanted to see it again and it stuck with you and I think that's all we ever hoped for with Obvious Child is that this is a movie that you walk out of and it just stays with you and it just does the things that all of my favorite movies did for me when I was a kid.
How has feminism played a role in your life?
I guess I just don't know how it never hasn't. A lot of bad grammar in that sentence, but… My parents are–I'm from New York City, both my parents are very liberal, arty parents. They met at NYU, and my dad was in advertising and my mom was a stay-at-home mom, but she also used to curate the film department at the Whitney. I have an older brother, and they always treated me and my brother as equals. I had never–actually, no, I finagled a later curfew, so What do you think the biggest challenge is for women today?
We were really lucky with making this movie because we didn't really ask for permission from movie studios to do it. We went through a couple of ways, which was applying for grants, we won some great ones and we lost some great grants and we found a couple of investors who really wanted to tell the story this way, and didn't have many notes for us. Never asked us to change the ending or anything. And when we sold the movie to this company A24, at Sundance, they bought the movie as-is, again, they didn't want us to make sacrifices, and it was a real dreamy experience.
For seven years I worked for the Director's Guild of America, which is a union for directors and below-the-line crew. And I would sit in meetings and they would say the business is really struggling for women and people of color, and each meeting they would have numbers and they just got lower and lower that the studio system just doesn't really hire women directors.
And there is a struggle and I don't think this industry is devoid of sexism, and I don't know the answer, except that I know that Elisabeth Holm and I, my producer, are going to try and continue to tell stories the way we want to tell them, and stories that interest us, and hopefully we can collaborate with Jenny until we're all 110 years old, and that we can do it in a way that doesn't feel disgusting or that we're being told to tell our story in a different way.
How do you feel about the way people use the word "abortion" and how afraid they are? Was that something you thought you were going to face, people shying away from wanting to share this story, just because of the topic?
Sure, yeah, I think in general, our culture has a real problem with that word, it's like a dirty word. And I think that what's been so great about all the press that's been happening for Obvious Child is that it takes that word and it throws it in the headline. Almost every single journalist has used the shorthand, "Abortion Comedy."
And while I don't necessarily agree with those two words being put together because that sort of takes away from so many other aspects that this movie has, and we're not really glib or being…it's not an abortion comedy, that's just a strange thing to say, but I'm not complaining because publications like the Huffington Post to Variety to IndieWire have been writing about Obvious Child since 2009, and are really writing about. It's in the New York Times' arts section, "Jenny Slate's Abortion Movie."
I don't know what the real headline was, but it's like in all these articles written about this movie, and it's really cool because it definitely takes this stigma and the sting and the taboo-ness away from the word if it's written more. It just takes the weight off of it.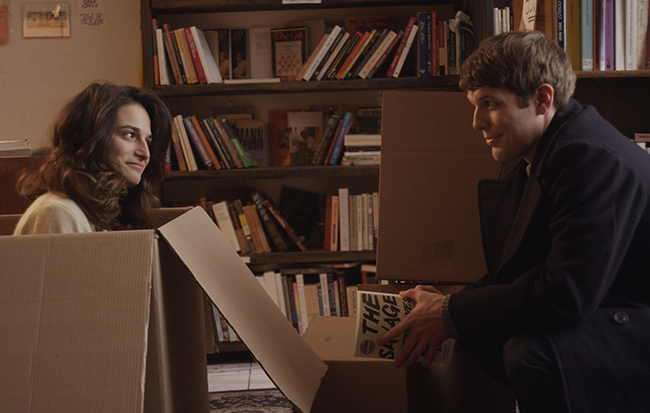 What women inspire you?
It's really so close to me, it's really my mom and my aunt and my best friends are the greatest, funniest women I know, and being able to have, you know, my mom and then my aunt as soon as I get to work with, and hang out with, and grow with them, and we're all doing it together, those are really…I mean, obviously I could say a bunch of very famous, influential women, but I don't really…I don't think that. I actually think that it's mostly the women in my life who are really strong and real. Those are the ones who get me.
What is your favorite thing about yourself?
The first thing that came to my mind was to say that I'm good at folding laundry–because that's a line from the movie, so I'm not going to do that.
I think that I'm good at listening when my friends need me to just listen, when they need to just vent. I try not butt in too much and when I do give advice, I don't force my ideas on them or act like I know more than them, I just sort of listen and give examples of my own life. But I would say that that's my best trait. That I'm a good listener.
And I have a lot of good red wine in my house because my fiancé works at a wine shop. We always have good wine.
Follow:
Obvious Child Film
Gillian on Twitter: @GillianHardG
Obvious Child on Facebook
Main image credit: Danielle Lurie