I am a woman. I grew up very poor, not just lower middle class. I grew up without a father, and with a mother who was forced to prioritize her three jobs over her children that she was struggling to support while balancing her individuality. I am the only girl, constantly surrounded by three boys and all of their male friends. I am biracial—my father is a Black Sicilian, my mother an Irish Scot. I was a first generation college student. I am not skinny, but I'm not fat either. I am a Democrat. I am single, but have a ton of advice and experiences with dating. And I am a writer! I have like a million angles I could take on myself.
Four years ago, on a particularly bad day, after a particularly bad argument with my not-boyfriend-but-guy-I-was-kind-of-dating (he didn't like labels, you know the type), I got off work, went straight to my tattoo artist, and got the word "brighter" tattooed on my left wrist. The word had been stuck in my head for a lifetime.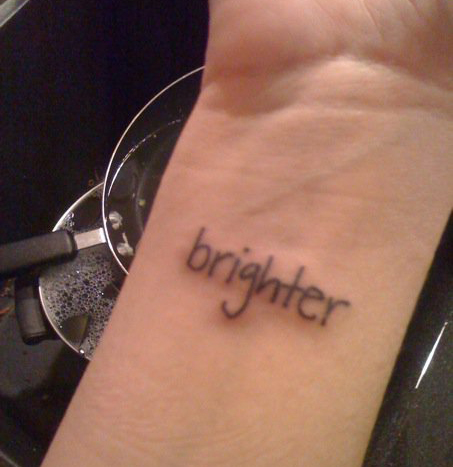 "If you can make it through the night, there's a brighter day," is a line from Tupac Shakur's song "Dear Mama," a line that I had leaned on subconsciously for years. When my mother was in jail (a story for another time), "Dear Mama" was about the only song I could listen to in order to keep me sane, in order to keep me from pitying myself and my tumultuously complicated life. I could relate to Tupac, I could relate to that line. When my heart was broken time and time again by the boy I could not stop trying to get to love me, I would lean on that line. If you can make it through the night… when work got too hard, when I look at my student loan payments, when the phone rings when my father calls, when my stepfather was murdered… there's a brighter day.
I have a hard time relating to people who do not know their reasons for being born. I have always known my reason. I have always noticed the effect I have on other people. I am Brighter. I have an ability to understand everyone: the privileged white people, the misunderstood young Black kids, the class clowns, the stuffy businessman, the promiscuous women, the cocky men. I have an uncanny ability to tear people's walls down, to get into their hearts and souls, and I don't even intend to do so most of the time. I have a Brighter soul. My smile is huge and meaningful; my heart even more so. I can relate. To anyone.
Being the only girl in a family of boys was certainly a challenge growing up, but it gave me incredible insight into gender relations. Boys fell in love with me against their own will because I was kept humble by my brothers. So even though I can recognize that I am an incredibly feminine beautiful "girly girl," (like, flying bugs can stay the heck away from me, and I don't camp, okay?) I can hang with the boys. I swear a lot, and I love video games, and rap music, and cheap beer, but you know what I love most of all? Sneakily educating men on what a real woman is like, and what it means to respect her. I break stereotypes on the daily. I have changed a lot of men. I just know I have.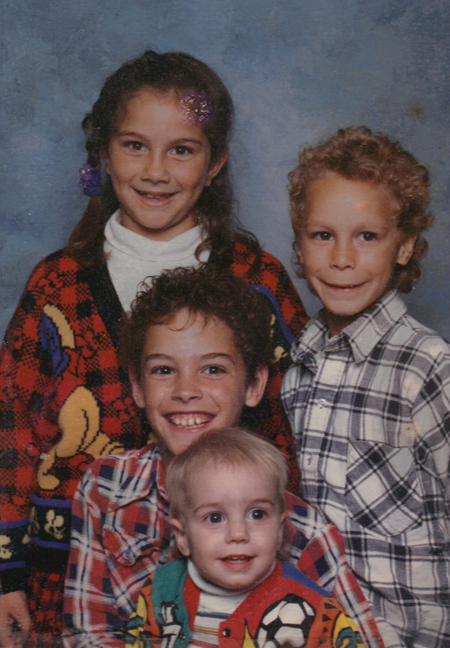 Being biracial and even being Black is my favorite thing about myself. My father and aunt were members of the Black Panther Party. Without even intending to, they passed on a fighting spirit to their children. I was born with passion for equality. When I was in the third grade, I refused to select a box declaring my race, for I never identified as "just white" or "just Black." I still don't. I am offended when people say stuff like, "you aren't that Black," or "you weren't even raised by your Black parent." As a human being, you can identify as whatever you identify as. I have always identified more with "my Black side," and just because the color of my skin simply looks like I have a great tanning lotion does not mean I do not feel my ancestors coursing through my blood at all times of the day. My dreams are built around fighting for equal rights: for minorities, for women, for the poor, uneducated and underprivileged. It is not an issue of color; it is an issue of privilege. I am privileged, for I am a young woman with a brain, with culture, with experience, with confidence and with a voice that I have no problem shouting from the rooftops.
Does it get me in trouble? Absolutely. I have lost friends, boyfriends; I have lost jobs, I have been written up at work, I have been slapped on the wrist in school. Has it quieted me?
The ones who remain quiet are the ones who never make a difference. When I die, I will have made a difference. I have already made a difference.
I consider myself privileged. I look down on the kids who are handed the world, who have never had to pay their parents' rent for them, the ones who remain on their parents' phone plans well into their 30s. I worked for what I have—I got myself into school by writing three essays because my SAT scores were not good enough for college because I cannot take tests and we couldn't afford the diagnostic testing to discover if I have a learning disability. (I really don't think I do.) I pay my own student loans because I have two parents who are not functional in paying their own monthly bills, nonetheless the kind who saved up money for their children's future. I speak my own voice, not my mother's or my father's, and I stand up for myself because I just think people should, not because I was taught to do so.
I am here to help, and to educate, not that I ever considered obtaining a degree in education because I look down on academia in America, as academia in America looks down on families like mine. I educate those around me, though. I do not let the women in my life sleep with men for acceptance, for they observe men respecting me first. I do not let rich white men mistreat those they view as inadequate to them. I do not let the ones I love become stereotypes in the eyes of others. I do not let girls around me compliment each other on "looking tiny," because what does that mean? Why is that a compliment? Why is "tiny" a thing we are striving for?
I have a lot of opinions, even more confidence, and because somebody out there loves me, I have an outlet. Thank god for the internet.
If I didn't, I would grab a soapbox, a loudspeaker, and I would become one of those people who stands outside of businesses in downtown cities with a sign and an argument. Again, thank god for the Internet.
I am here to change the world with my Brighter.
Jess has been told she reminds people of Scarlett Johansson, Victoria Beckham, Carrie Bradshaw, Raven Symone, George Costanza (she's serious) and Cece from New Girl, so basically, she's every human ever. Using her multiple personalities, she proudly writes on the Internet and breaks mugs and hearts as a manager for Starbucks in the Pacific Northwest, where coffee was like…invented. She believes in song lyrics, hair diffusers, red wine, eating food before liquor, respecting her elders, not washing her hair everyday, big brothers, little brothers, medium brothers, Beyoncé, breaking walls down, her childhood, full fringe, turning the heat on, mismatched socks, being serenaded, tweeting, shots of espresso, a thing called love, red lipstick, crying openly, Barack Obama, and even more, his wife. You can find her pretty much all over the internet, because what's real life anyway?