Coffee isn't for children. That's what adults always say. "No, no, darling, it will stunt your growth. Here's your sippy cup." But my grandmother was different. From the time I was five, Grandy and I would drink coffee together like ladies. She'd fill a mug halfway with coffee, the with half 'n' half and about eight teaspoons of sugar. Ohhh I adored our coffee parties. We'd chat and sometimes watch "soaps" while she tidied up the house. I still think there's nothing better than the smell of coffee and Lysol in the morning. I felt so fancy and sophisticated when we sat at the tall dining room table that overlooked her magical garden. It's worth mentioning that the front door of that house was purple. Grandy taught me that life is too short to be afraid of being different.
Grandy's garden was different from other gardens. I've seen them grander, perhaps at some dumb palace somewhere, but never quite as lovely. It was ordered, magical chaos. And lavender! So much lavender spilled onto the stone pathways, while rich pink and purple hollyhocks swayed above. Her garden was so spectacular and whimsical, it became a must see attraction in her small Montana town. We'd sometimes pick the hollyhocks, stick toothpicks in them, float them in water and make "dancing ladies." Grandy chose many of the flowers because she found them in books about fairies. One time my cousins and I found a fairy house in her garden. A house made of dark wood and moss, filled with furniture, so tiny and intricately crafted that only fairy hands could possibly have hammered the tiny nails. She forever maintained that it was, indeed, the work of fairies.
Grandy was a feminist, but different from the feminists I knew about. She was a feminist without talking about being a feminist. She just was. When I was nine, she bought me a toolbox to build my own tree houses. She was so strong and funny that I never thought being a woman would mean anything sad for me, until I grew up and society told me it would. In fact, any time a man even tried to belittle my Grandy, I actually felt sorry for him. It was usually a male doctor. She hated doctors and destroyed them verbally every chance she got. I asked her husband, Scott, about her particular brand of feminism and he said it's what he fell in love with in the first place. He said she lived life the way she wanted and never apologized for it.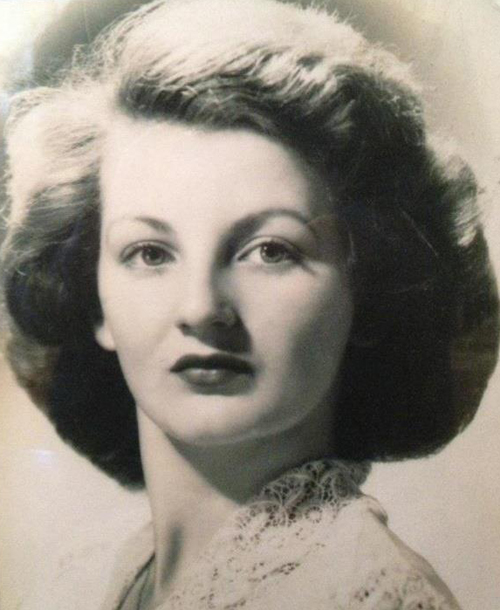 Grandy's marriage to Scott was different from other marriages. In fact, they had the only healthy marriage I've ever seen close up. They enjoyed each other. They took care of each other. She cooked for him, he cooked for her. She supported him, he supported her. They had fun. I never once sensed that either one was settling or bored after nearly 40 years together. I almost always sensed boredom and desperation around my friends' parents and grandparents, and it terrified me.
Most impressively, Grandy was 18 years older than Scott. When they fell in love she was in her forties and he was in his early twenties. She was ahead of her time. This was the '70s, before "cougars" had their own towns. From what I hear, it was quite a scandal within the family. Thankfully, they ignored the judgment. By the time I arrived a decade later, it seemed like the most obvious match in the world.
Grandy grew old differently than anyone I've ever seen. She seemed to actually enjoy it. I'm so thankful for her example. Living in Los Angeles, it's easy to spend an obscene amount of time worrying about aging (and everything else). Worrying that whomever I "end up" with will eventually trade me in for some 20-year-old chippy. Grandy always told me she would never go back to her twenties. At 29, I think I know what she meant. I spent the majority of the last decade wearing my skin like an ill-fitting wool body suit. I'm thrilled each day seems to get better and better, and even happier because Grandy said life really started to get good in her forties. I think Scott agrees. He says she was the youngest person he ever knew.
No one likes to think about their grandparent's sex life, but I'm absolutely certain that they had a damn good one right up until the end. You could see it in the way they looked at each other. And you could see it in the eyes of my horrified 15-year-old brother, Daniel, when one night as Grandy and Scott went to bed, Scott peeked his head out from their bedroom and said, "We'll try to keep it down." I hope we all have that at 79.
Grandy passed away nearly two years ago. I miss her very much and think about her almost daily. What would she think of this or that? What advice would she give me? I just try to remember what she used to say. When I was having a bad day, she'd tell me to throw myself a giant pity party and really wallow in my sadness. If I allowed myself to feel what I was feeling, it would surely melt away. When an unworthy guy hurt me, she would remind me that you have to kiss a lot of toads before you find your prince. She told me what classic movies to watch. "A Letter to Three Wives" and "Pillow Talk" were favorites. She still encouraged me to drink coffee, too. She'd send me coffee beans and tell me to save the money I spent on lattes and take myself somewhere fabulous.
It's difficult to sum Grandy up in a neat little closing paragraph. She'd hate it if I tried. So instead I'll just tell you, the coffee never stunted my growth. I grew to a sturdy 5'9″ tall. Grandy was always right.
Heidi is a writer, comedy performer and video producer, but secretly hopes to interpretive dance and lip sync for a living. Originally from Missoula, Montana, she moved to Portland, Oregon after college to be a morning TV news writer/producer. While endlessly writing about 7-11 robberies, meth busts, and bunny hoarders at 1:00 AM was fun, she ultimately gave it up when she made the decision to do everything that scared her. Since moving to Los Angeles in 2009, she has performed and produced stand-up, improv and sketch comedy all over the city, and has performed at The Bridgetown Comedy Festival. She studied improv and writing at Upright Citizens Brigade, Improv Olympic, and in Portland at Curious Comedy Theater and The Brody Theater. Heidi is currently producing a video series featuring stand-up comics telling funny AND meaningful stories. You can follow her on Twitter @heidahay.