For as long as I can remember I've wanted to be an artist. Some of my earliest memories include me doodling or drawing on something, and more than likely getting in trouble for it. The best example of this would be my mother's senior portrait in her high school yearbook. In my defense, I was four years old.
When I look back over the course of my life, I see paper and pencil. A lot of paper, actually. You wouldn't believe how many sketchbooks I've accumulated over 29 years. Faces change and people have come and gone, but paper and pencils were the constant.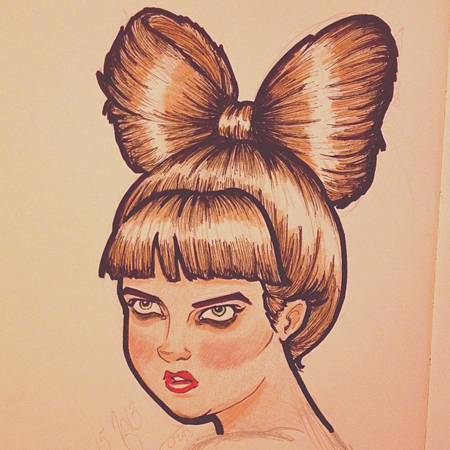 One of my first inspirations were Betty and Veronica from the Archie Comics while I was still in elementary school. I saw them and thought, "They are so pretty," and I knew instantly I wanted to be them. Betty and Veronica were pretty, sure; but they were intelligent and fiery. I first started by tracing them and memorizing the lines that formed them when I began drawing them freehand. This simple act has led to the years of practice of art for me. My skill allowed me to diffuse bullies in school with my drawings, and gained me acceptance into the college I dreamt about going to since I was seven- the Fashion Institute of Technology. Art has literally set me on this course in my life.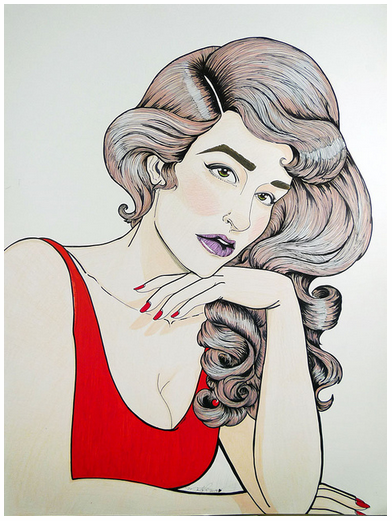 My biggest artistic influence has been Roy Lichtenstein. The happiness I get from seeing a Lichtenstein, especially in person, cannot be explained. I've been brought to tears just by looking at one of his canvases in The Museum of Metropolitan Art here in New York. As a girl who grew up on comic books and pop culture in general, Lichtenstein represents the iconic woman to me. His paintings of women in despair have always spoken volumes to me and not at all in the negative context that most of the paintings are in. To me, the colors, expressions, and will to be their own woman in the face of adversity represented to me, a strong feeling of security, also one of defiance. One painting in particular, Drowning Girl, is the embodiment of this for me.
As a female and an artist, I think of that and hold myself to it. As a woman, I want to be the quintessential Lichtenstein woman, fierce without loss of femininity. As an artist, I want to evolve the women I saw in his paintings and make MY drawings larger than his. I want to surpass the Lichtenstein woman using my own illustrations to make the viewer relate, and feel understood. I feel like I have accomplish that with my comic, I'm Terribly Awkward with Boys. The positive response to it has led to developing it into a book, which is close to being published. The ability to connect with women around the globe via artwork is a tremendous thing and I'm incredibly grateful for the opportunity to say what so many women seem to go through and never really felt there was something out there for them.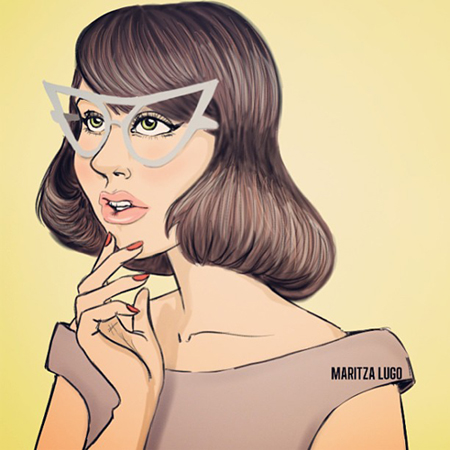 It shouldn't be a surprise that I'm intensely passionate when it comes to all the things I do. Being raised by someone who had such staunch beliefs helped shape me in every way. My first role models as a kid were Annie Oakley and Amelia Earhart. They displayed passion for what they did, because it wasn't just a job – it was who they were. To me, living/breathing art means I create life on a piece of paper. Illustrating is how I express who I am and the passion or emotions behind my person.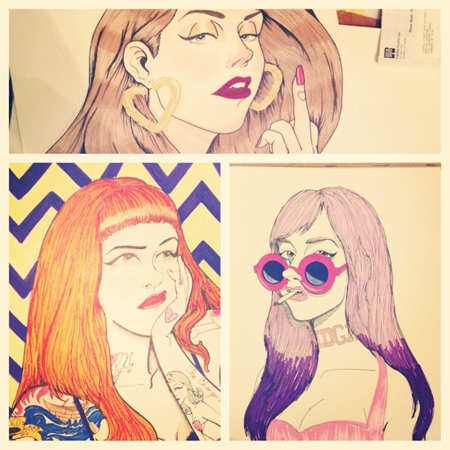 The ability to draw gives and digs into my drive for something bigger than I am. Publishing my first book is another goal I've yet to reach as an artist, and most certainly not my last. Some of my others among many goals are to create/present an animated series to a major cable network, dive head first into comedic screenwriting, and doing character design for Disney (I believe in dreaming BIG – it's free!). Ideally, I'd like to leave my own stamp on pop art, and I think I'm well on my way.
Maritza Lugo is an artist/illustrator/writer/feminist from Yonkers, New York. She draws the Illustrated Tweet of The Day on HelloGiggles.com. You've also seen her work for MTV, and on the BBC America blog. Maritza can usually be found tweeting obsessively, or working on her first book, I'm Terribly Awkward with Boys.