For most of my life I lived the common experience in resolution making—I failed nearly all the time. These personal defeats were a mystery to me, as I was successful in my career on Wall Street and in nurturing a happy and rewarding family life. But despite my ability to deliver for others and the take-no-prisoners attitude I brought to the most challenging career assignments, I struggled to keep the personal promises I made to myself, from going to the gym regularly to getting more sleep. With all my energy and determination, I wondered why I had succeeded only a handful of times.
After one particular New Year's resolution fizzle, I decided to let go of making iconic, "wannabe" resolutions such as "to be neat," "to be thin by summer," and "to be on time." Instead I committed myself to nailing a realistic behavioral change that I believed I could sustain forever. I decided to focus my willpower on eliminating one source of disorganization in my life, my lack of discipline in taking notes. My habit was to grab any handy piece of paper (a meeting agenda, a business card, a random pad) to jot down notes that might later end up in my office, on my desk at home, or in my purse. Instead of resolving "to be organized" (a vow so abstract it's really closer to a wish than a resolution to take action), I simply resolved to take all my notes in one place, no excuses.
I bought a bright red Moleskine notebook to carry with me everywhere. That was the easy part of my resolution—actually practicing this "modest" behavioral change proved challenging. My new note taking behavior felt awkward and weird because it required more attention than my mindless habit of just writing on whatever was in front of me. If I forgot to take out my notebook at the beginning of a meeting I resented the break in flow caused by my fishing the notebook out of my bag and flipping around to a blank page. When I took a phone call and then spied my notebook lying on the on the opposite side of my office, I had to scoot around and retrieve it to make notes. But after sticking with it a few weeks, my notebook habit began to feel more natural and I experienced a benefit as targeted and concrete as the resolution itself: all my notes ended up in one place.
My experiment in building a discrete organizational behavior was a personal breakthrough for me. I stopped trying to transform myself in one big push every year and instead began to focus every day on targeted behavioral changes—in diet, fitness, relationships, neatness, organization, spending, punctuality, sleep— that I could sustain forever. My new resolutions were based on my existing behavioral profile, not a fantasy self I dreamed of becoming tomorrow. I made changes to my routine just two behaviors at a time and stuck with them until they became second nature. Previously I would have derided this pace of self-improvement as slow, but in fact I made more personal progress that year than I had in the ten previous years combined. Giving up on overnight success turned out to be the path to swifter progress.
Habitual behaviors are married to settled thought patterns. Burning new behaviors into my routine changed my head, and I began to develop in unexpected ways. My attitudes, preferences, and values were challenged by the personal insights that occur with new experience. As my mindset morphed, the way I thought about and represented myself changed—my self-image improved. The greatest revelation from my year of behaving differently was that there are no "small" self-improvements—instilling any new behavior is practically and psychologically significant.
My discovery that I had the power to change myself without taking drastic actions was like Dorothy finding out from the Wizard after her arduous journey to Oz that she alone had the power to transport herself. We all have the power, it's intrinsic. Learning how to do just one thing differently, forever, is the ticket to continuous self-improvement. It's just a question of choosing a destination that is reachable this very day.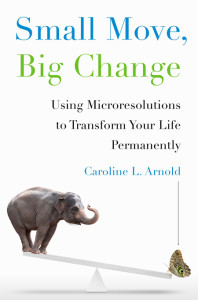 CLICK HERE TO BUY "SMALL MOVE, BIG CHANGE"
Caroline L. Arnold has been a technology leader on Wall Street for more than a decade, leading software development teams as large as five hundred technologists. She received the Wall Street and Technology Award for creating the Google IPO Auction platform and her name appears on several patents pending. She is a managing director at Goldman Sachs and lives in New York City with her family, and is the author of Small Move, Big Change from Viking Penguin Random House, on sale January 16, 2014. You can follow her on Twitter @CarolineLArnold.
Featured Image Credit: Ellen Warner