50 MILLION GIRLS ARE MISSING IN INDIA BECAUSE OF GENDERCIDE.
That statistic, although unthinkable, is very very true. According to the Invisible Girl Project, more girls and women have been discriminated against and killed in the past century than any other modern-day genocide. As women, we see so many abstract and intangible injustices every single day, but this is happening right in front of us, and it is very concrete.
What can you do to help?
The first step is awareness. If we spread this horror globally, people can no longer be blind to it. After arming yourself with knowledge, you have a few options of helping end this atrocity. You can become a donor and help support the IGP. For $35 a month you can sponsor a child. Lastly, you can take the pledge.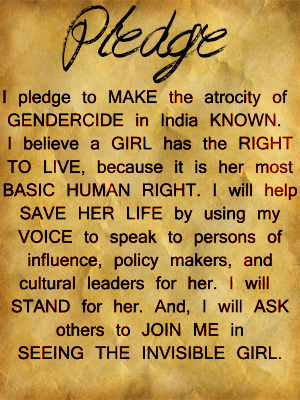 Follow IGP on Twitter @nvisiblegirlprj. Image via InvisibleGirlProject.org.