Photographer Jaime Moore and her daughter Emma have created a tribute to the history of feminism that is both refreshing and inspiring. Their photography series, the Not Just A Girl Project, feature's Emma as famous historical figures.
The Not Just a Girl Project, which has received both print and television press around the globe, was born from a place of disappointment. When Moore was looking for inspiration for a photo shoot for 5-year-old Emma, she discovered picture after picture of little girls dressed up as Disney princesses. She felt like this was setting up girls with "unrealistic expectations," and set out to do something drastically different.
The end result is, needless to say, magnificent. Emma is gorgeous and the series highlights the underlying idea that girls can grow up to be anything they want to be- whether it be a pilot, a doctor, an activist- or even the President.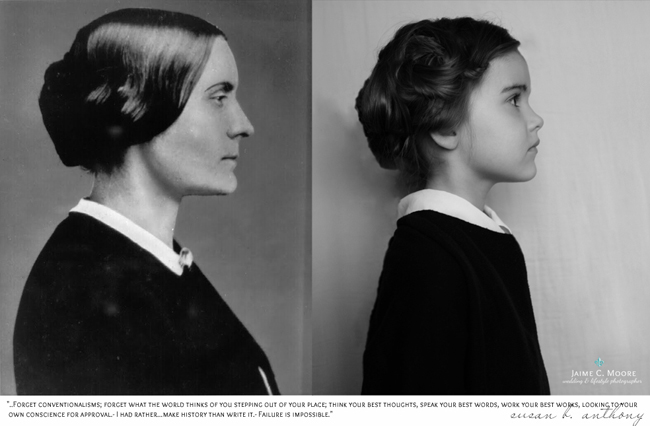 How do you define feminism?
I wasn't raised a "feminist"…it was a word I never heard mentioned growing up, instead I had a very strong mother and grandmother who lived their lives equal to men, there was never a question whether or not something couldn't be done or allowed because they were women. They lived the life they wanted for themselves regardless of not being a man. The definition of a feminist is "a person who advocates equal rights for women," we shouldn't need a label for a woman wanting the same rights as a man.
What inspired your "Not Just a Girl" project?
I really wanted to do something different for her 5-year portraits. Five is such a fun age, the age you realize your little one is not so little anymore. She has begun to think for herself with her own opinions and questions about the world around her, it's pretty amazing.
There were many different reasons why I chose these five amazing women. Each woman is so very different in how they've lived their lives and how they have changed ours for the better. A big thing for me was that these incredible women overcame such obstacles and persevered to change their lives simply because they wanted to… Amelia wanted to fly a plane, so she did. Not letting society's "rules" direct their lives for them, they raised the bar and we should continue to.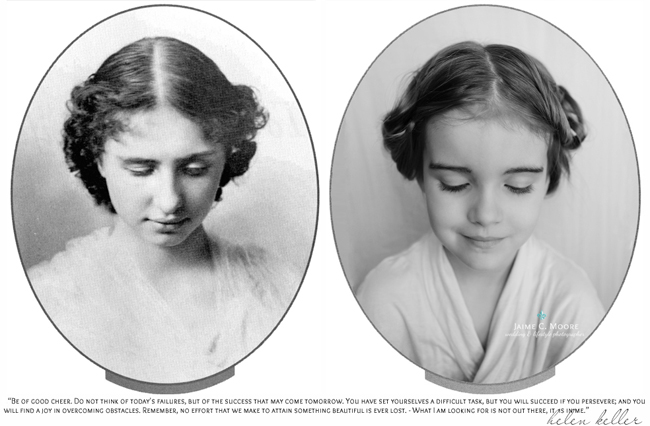 What has been its biggest success to date?
It has been very rewarding to say the least, I have absolutely loved receiving hundreds of beautiful messages from women and men from so many different countries. Emma's series has been published in magazines and newspapers (and two books) from all over the world but I think the CBS crew (and Lee Woodruff) flying down from New York to our home to interview Emma and me all day has definitely been the most personal.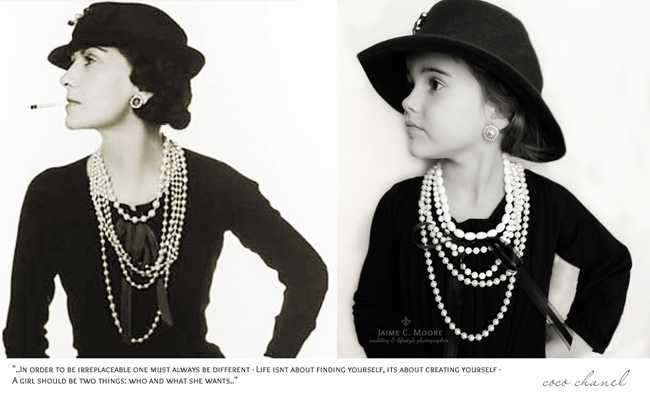 How do you think we can make the world a better place?
I think my (now almost 6 year old) says it best, "treat others how you would like to be treated". Its a simple concept with a powerful outcome.
Empathy, LOVE, giving and positivity.
What changes do you hope to see for your daughter's future?
A future where equal pay and rights is a no brainer. Where women are thought of and given the same respect whether they're the CEO of Apple or a loving mother of three.
A future where girls can safely thrive, where gender doesn't dictate value, judgement or social expectations.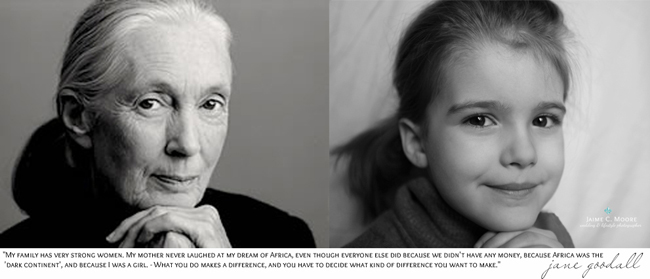 How do you think women can be more supportive of one another?
Through communication and actions of support. A lot of time women seem to be the hardest critics of women, which is ridiculous.
We need to be uplifting and encouraging of each others choices and goals, not being so judgmental of the unknown or expected.
What is your favorite thing about yourself?
My favorite thing about myself is my resilience aaand… my hair.
It's almost to a fault, but I find I never stop. If I have a goal or an idea I will just keep pushing through the "no's" and keep going.
As for the hair, well, I have spent a lot of my life resenting the hair I was given. It is big, curly and unruly. No product can possibly manage it. But last year I cut it really short and, as crazy as it sounds, as it grows back out I realize I greatly relate to its independent nature.
Follow
Instagram: @JaimeCMoore
Indiegogo: Not Just A Girl Project
Facebook: Jaime Moore Photography