Now more than ever, people are talking about women climbing the corporate ladder. We're Leaning In, speaking up and making an impact in boardrooms and offices around the world. With all this conversation about what we should do to get to the top, there's never much talk about what happens when you stumble.
Enter Jessica Bacal, the director of the Wurtele Center for Work & Life at Smith College. Bacal saw the void in curriculum- lessons that could teach a person how to recover from potentially devastating mistakes- and set out to change that by talking with well-known women such as Cheryl Strayed, Kim Gordon and Anna Holmes about turning a cringe-inducing experience into a learning opportunity.
What inspired Mistakes I Made at Work? Why was it important for you to share your mistakes?
When I was new in my job at Smith, and making a lot of mistakes, I was also building a new integrative leadership program for students. I'd go to leadership conferences where panels of high-achieving women were often asked about mistakes but rarely told stories that actually made them vulnerable. Those kinds of stories are hard to come up with when you're on the spot, but I kept thinking: I'd like to hear about real mistakes.
This was in part, of course, because it would be comforting to me – but also because at Smith, I saw the way students responded to true stories when they were shared. Our students are part of a generation of young women encouraged to "lean in" and takes risks, but at the same time, they're grappling with incredible pressure to be perfect. So I felt like there was a missing piece of the conversation. Taking risks at work means making mistakes – sometimes big ones. I wanted to ask successful women to model imperfection by telling stories that would demonstrate how screwing up and learning from it actually helped them to succeed.
What do you hope women take away from your book?
I hope they feel the way I did as I conducted the interviews. I had a chance to pull aside the curtain, so to speak, to glimpse the uncertainty that even successful people feel as they navigate their careers. When contributors told me stories in which they described feeling anxious or demoralized, I wanted to say, "Really??!! But you're so amazing!" It started to sink in that nobody is perfect or feels like she has it together all the time. I gradually became less likely to dwell on mistakes that I made: Instead I'd force myself to consider what I'd learned, attempt to fix what I could, and then let it go. Also, I began to accept that, like the women I interviewed, I have strengths and weaknesses. I'm not perfect.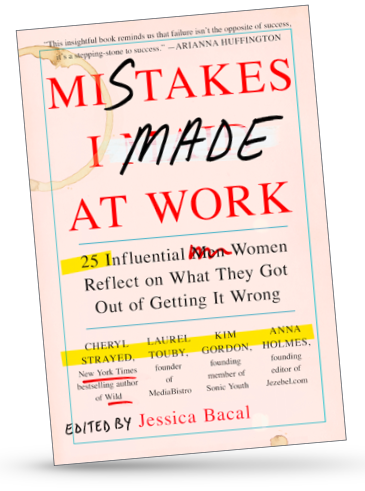 Click here to buy.
How do you define feminism?
To me, feminism is about believing that women are important, but knowing that we're not all the same and listening to each other with a kind of openness. I'm lucky enough to work in a feminist culture, a college where women are always the team captains and class presidents, where women always win the prizes. I wish every woman had a chance to spend four years at a place like this, because after they leave Smith, our graduates are ready to take-on anything.
What kind of role do you think feminism can play in the workplace?
Writing recently on Gloria Steinem's birthday, sociologist Nancy Whittier said feminism has to do with the understanding that "seemingly individual experiences grow from larger social forces." So when you're at your job and thinking, "I don't know why, but it's really hard for me to ask for more money," it might help you to know that a lot of women have difficulty asking for more money, and that there are complex forces that play into and perpetuate that. Or when you have a baby and need to pump breast milk at the office and there's no place to do it, is this only your problem, or part of something larger? I think it's important to ask these questions, because they can make us feel less alone and can empower us to learn how (in a professional, collegial manner) to push against the way things are and move ourselves– and other women– forward.
How can we improve equality?
I am reading a great book called Whistling Vivaldi. The author, Claude Steele, cites a study on prejudice in which the researchers had participants look at a bunch of dots on a page, then estimate how many there were. (Bear with me, this relates to the question.) The researchers then created these totally arbitrary groups: The "over-estimators" and the "under-estimators." During the course of the experiment, the groups discriminated against each other on the basis of these made-up categories. This was in the '60s, and it was the first experimental evidence that all of us (men and women) are predisposed to prejudice, but this kind of study and result has since been replicated thousands of times all over the world. So what I think is most lacking is the awareness that each of us is capable of discriminating, that we sometimes act from unconscious motives and biases, and that part of being a person is, or should be, continually working to understand other people and ourselves.
What can women do to be more supportive of one another in the office?
Encouraging each other to take risks is important. A colleague recently met with me to talk over a workshop that she wanted to develop, and it actually made me feel good to cheer her on. Of course, with risks come mistakes. Ideally, we should try to create an atmosphere that values experimentation and innovation; when things go wrong, we can acknowledge errors and discuss what is learned. But I think we should always keep in mind that mistakes are part of life and that even at work– which we take so seriously– they are not the end of the world.
What women inspire you?
I'm inspired by my close friends, including the writer Heather Abel, whose fiction and essays I greatly admire, and who generously reads and comments on my work. And I'm inspired by Smith students around me, who come from all over the world and are so wonderfully thoughtful and ambitious.
What books or media have had an impact on your life?
I love reading fiction about women and work. Some of my favorite contemporary writers include Allegra Goodman, Meg Wollitzer, Mona Simpson and Andrea Barrett. And I loved Kate Walbert's A Short History of Women. I think every woman should read the first story in that book: It's about a woman who is a mother and an activist, fighting for the vote in England in the early part of twentieth century. It makes you wonder what you would sacrifice in order to create real change.
What's your favorite thing about yourself?
I guess that would be my ability to find humor in a lot of things. And luckily, I'm married to someone who makes me laugh a lot.
Main image courtesy of Gabrielle Berkman-Levine.