You may be surprised to find a man on the forefront of changing the idea of feminism, unless of course you know that man, then you aren't surprised at all. He is John Gerzema, and through his project and New York Times bestselling book, The Athena Doctrine, he discovered the overwhelming trend of people seeking feminine traits in their leaders.
Alongside Michael D'Antonio and their fearless team members, Gerzema studied men and women across the globe. His work is endlessly fascinating, and its results are so positive and inspirational that he's giving us all hope for the future.
Do you identify as a feminist?
I'm totally a feminist. But my hope is we can broaden its definition to include more boys and men. Because I think being a feminist means being a humanist. We're in an age where authenticity, collaboration and empathy now have currency. I see feminism evolving to represent a way of thinking and leading that we all can use to solve tomorrow's challenges. So part of what I tried to do with this book was re-frame feminine values into more inclusive language. When most guys hear "women's issues" they think, "Those aren't my issues." Our book is about championing the virtues, skills and competencies of women and helping men understand that they too can harness these traits for competitive advantage.
How did The Athena Doctrine get its start?
We noticed in people's feedback from our last book, Spend Shift that many of the start-ups we featured had "feminine" qualities. Many of the companies (like Etsy, RecycleBank, Zappos and BluHomes) imbued virtues of collaboration, empathy and nurturing into their business models and cultures. But the apple on my head moment came at a speech I gave at a women's leadership event hosted by Campbell Soup Company's CEO Denise Morrison. There were 60 women in the room and one middle-aged bald guy (me). Amid all this environment of positive energy I tried to imagine putting 60 guys into the room and getting the same effect.
I started conducting a series of research projects and as the data came back, I went into full geek mode, conducting a study of 64,000 people in 13 countries. Even as I got into the survey structure, my team and I were very careful not to be leading with gender. We modeled the data to include gender, but we split the sample to ask half the people what types of qualities people desired in modern leaders. Surprisingly, the majority of skills that people desired- selflessness, patience, flexibility– were what people described as "feminine." That set us off to travel the world.
What is the most important message you hope people take away from The Athena Doctrine?
That feminine skills are necessary to lead us into a more prosperous future. And they're inside us all. The problem we're up against is that many women underestimate their own strengths and tend to conform to the structures and values of their company. But we observed how the most innovative men and women are already breaking away from these traditional notions of business and success. Their emergent form of leadership, driven by Millennial values and amplified by technology–– will force companies to adapt if they are going to stay ahead. So on one hand young, creative, courageous people are already questioning these conventions and reaching up. And my bet is the most innovative companies will reach down to them–– and then things get really interesting.
How do you think the world can use feminine traits to become a better place? Who is making the most progress?
The Athena Doctrine is about leading in service to the greater good. It's the idea that giving, including, collaborating and nurturing will create greater value than simply the personal-driven extraction focus we've been on for thirty years. This is again, a new way of leading that we document around the world. But our data reveals that people representing nearly 65% of global GDP want it in their leaders. And of the 100 interviews we did in eighteen countries, many were start-ups, ethical focused firms and NGO's. As for larger corporations, many of the most clever ones like Dell, Microsoft, Mass Mutual, Goldman Sachs, Coca-Cola are developing (or have developed) women's advocacy programs, diversity training, inclusivity policies, etc. Others like Starbucks and Zappos are embedding a strong sense of culture and community into their values and brands. The last group are actively grooming the next generation of leaders to include women and men who can think like them. I think they'll all be doing a lot more of this in the next five years as Millennials become the most important consumer in the marketplace. 68% of Millennials in our survey said they'd work for less money at a company whose culture and values they believed in.
Why is the UN's Girl Up Foundation such an important organization?
I just came back from speaking at the annual Girl Up Leadership Summit in D.C. This week and it was amazing! First I learned what "re-gramming" is. (Like a RT on Instagram. I was like, "what?"). Spend two days with tween girls and you feel really good about our future. They're so passionate, poised, idealistic and directed. I gave a talk on the Athena Doctrine and my daughter Nina signed books with me by putting a 🙂 on each book. Totally precious. Girl Up is encouraging a new generation of girls to be confident, gifted women leaders. They teach practical problem solving along with a healthy dose of esteem building. All proceeds of our book support Girl Up so check them out at girlup.org.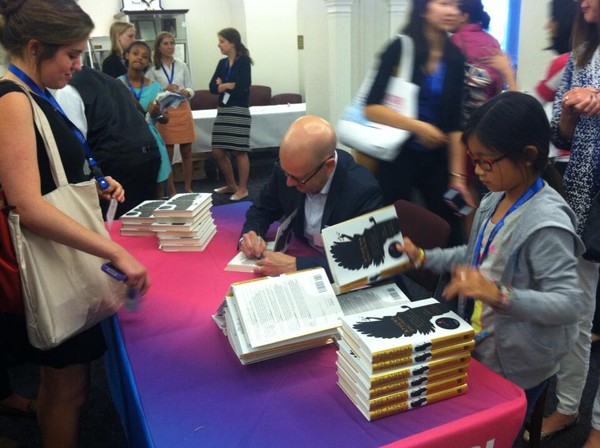 @johngerzema with his daughter Nina at an @athenadoctrine book signing. Photo by Nissa Ostroff.
What stories or people inspire you to continue raising awareness for gender equality?
So many of the people we met around the world had the courage of conviction to be themselves. Rather than conform to group think, they put their 'whole selves' into their challenges. I get this (misperception) about the book that because these people were leveraging soft skills, they were soft. Nothing could further from the case. Rather, many were up against huge systemic problems with no easy solution. The framers of the first crowd sourced constitution in Iceland, The NGO in Columbia that was repatriating ex-rebel soldiers back into society. Or Yamaguchi-san, an amazing young woman who had the empathy to care for illiterate workers in Bangladesh and give them a greater life, while building a profitable business along the way.
As a father of a young girl, what changes would you like to see in the world for her future?
My daughter Nina, and all the amazing girls at Girl Up are up against an epic fight. Their idealism, talents and esteem are going to go up against these old structures like tectonic plates and the girls (and boys) can't conform. The best response I've had from the book is from young men, who come up to me and say, "Oh, you're saying I can be myself at work." That's a start.
How can people learn more about The Athena Doctrine? What can we do to help spread its important message?
I want to connect Girl Up with Barnard College's Athena Center for Leadership Studies, where I'm a Fellow, and include corporations in a joint campaign for 21st century leadership. Corporate cultures won't happen overnight, but the companies of today won't satisfy the workplace of tomorrow. We need to encourage future classes of young women and men to believe in their specialness and bring their own values to work. Then we can create better-run companies and greater balance in our lives.
This is my thing and if you want to join in, send me a tweet @johngerzema and join our band of pirates!
Photo credit: M. Wesley Hamm