Any woman who has received her Masters of Engineering, Logistics, and Supply Chain Management from MIT, and a Bachelor's degree in Art History and History from Wellesley College can certainly call herself a success. But when she lands herself in the national spotlight for becoming the winningest woman in Jeopardy! history, and is on a path to rise to the top of all champions regardless of gender, well- she becomes a different kind of success altogether.
Julia Collins isn't the highly-confident Ken Jennings, or even the maddeningly unpredictable Arthur Chu. She is level headed and methodical, calmly defeating her opponents by thousands (and thousands!) of dollars. Watching her play, you sometimes forget she is answering nearly all the questions on the board- and correctly, no less.
She's currently got 11 wins under her belt, and shows no signs of stopping anytime soon. There is one thing of which we can be sure: Julia Collins is a brilliant, shiny force to be reckoned with, both on the Jeopardy! stage and off.
What inspired you to try out to be a Jeopardy! contestant? 
I loved learning new things from Jeopardy!, and always felt a lot of pride in knowing the right responses, even as a 9 year old.
Part of me has always wanted the whole wide world to know how smart I am, so that was my main motivation to try out for Jeopardy! The show conducts an online test every January. Starting the try-out process was easy and I thought it would be fun.
I went through the full audition process a few years ago, but I was incredibly nervous during that tryout, and I am 100% sure that I didn't seem TV-ready. But, having gone through the process once, I knew what to expect when I was invited to try out again last summer and was much more relaxed. Plus, I knew that I could always try out again!
 
After you won your first show, did you feel like you could be a record-setting a champion? 
Before I went on the show, I had three different trains of thought about the experience. 1) It's so exciting to just get called to be a contestant; the experience itself is worth it no matter what the outcome, 2) I want to win at least one game and get to call myself a Jeopardy! Champion for the rest of my life and 3) I'm going to be the most awesome Jeopardy! player ever and win millions of dollars like Ken Jennings!
I certainly believed I had the capacity to win before I played, so much so that I started having dreams that I was a Jeopardy! champion. Once I won my first game, I thought, "Great, let's do it again!" Going into the next game as a winner also gives you a great boost. I didn't wonder if I could win because I'd already won once, or twice, or nine times. I learned I could win close games, games where I was exhausted and games where the categories weren't in my favor. So, the more I won, the more sure I was that I could keep winning.
 
Did you feel any extra pressure because you were a female contestant? Did you feel like that was either an advantage or disadvantage?
I didn't feel any extra pressure being a woman on Jeopardy!. As a viewer and a contestant, I've always found the format of the show to be pretty egalitarian. The way the buzzers work is that the first person to buzz in gets called on. You don't have the potential gender bias of the classroom where girls raising their hands can be overlooked in favor of boys.  
 
The contestant mix is pretty evenly divided by gender, and the atmosphere at the show is congenial and polite. The men I met at the show were less likely than the women to say anything about being excited or nervous. But, I don't think that can be interpreted as a confidence gap between the men and women, perhaps just a bravado gap. I don't think that the men are any less nervous or excited than the women. Plus, you often can't tell who's going to play well and who's going to have bad nerves or trouble getting their timing down.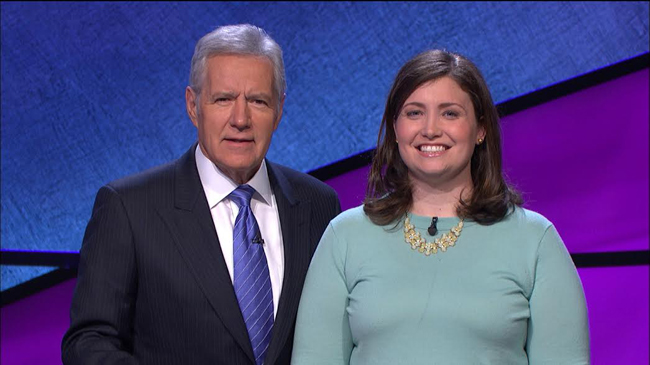 Your academic background is impressive. Has it always been important to you to prioritize an education?
Education and academic achievement have always been very important to me. I've been very privileged to have had really great educational opportunities. I was lucky to grow up in a household and in a community where the expectation was that I would go to college, and so I always assumed that I would.  
My family places a very strong emphasis on learning. My parents both read a lot and read to my siblings and me a lot growing up, and I became a voracious reader. Dinner conversations would often start with my dad saying "I read a new word today" and end with us bringing our compact Oxford English Dictionary to the table so we could learn the etymology of the word. My mom took us to the library several times a week. We also visited lots of historic sites and museums, which I love doing as an adult.
There was an expectation that my siblings and I perform well in school, but we were raised to enjoy learning for its own sake. Learning is something I do for myself. The Onion recently had a story, "Tour Becoming One on One between Guide and Man Who Knew Name of McKinley's Assassin." I'm 100% this person all the time.
I went to a girls' school for my last two years of high school, and attended a women's college. I got a top-notch education and a very different normative experience, one that I'm very happy to have had. Aside from all the oft-touted benefits of single-sex education, like leadership opportunities and confidence, I think I'm less likely to take sexist norms for granted, like how bogus it is that my grad school class was only 1/3 women, and "pretty good for an engineering program" is not good enough.
You have a Masters of Engineering, a field that has been historically dominated by men. Did you feel like you had to work harder to prove yourself? 
It's made me a lot less of a people pleaser. If someone is holding me to a different standard than my male colleagues, it tells me that that person's good opinion doesn't have a lot of value to me. I won't waste a lot of time trying to "win that person over", because that person is probably never going to give me a fair shake. Conversely, I have a lot more appreciation and respect for someone who gives me legitimate opportunities to prove myself and use and develop my skill set, and I will work very hard to prove myself to that person.  
I've had a lot of the ubiquitous experiences of sexism in the workplace: assumptions that I report to a peer because I'm younger and a woman; dismissive or even angry responses to my suggestions or requests, which are actively listened to when repeated by a male colleague; a boss assumed that I'd plan work social events because I was one of only two women. I'm a terrible party planner.
I worked on a team with a man who was considerably older than I am who thought I misunderstood every time I disagreed with him. He just couldn't believe that I didn't agree with everything he said. I couldn't possibly have a different opinion; I must be confused!
How can we improve equality? What do you find is lacking most?
There are a lot of different ways equality and inequality play out. Professionally, parity in numbers makes a huge difference in how ideas are perceived and how well your voice is heard. Supply chain, the field I've spent my professional life in, has been a traditionally male industry. I've spent a lot of time in retail environments, though, which have a lot of women across the board, including in supply chain. When there is gender parity, you're less likely to be perceived as representing all women, and you're less likely to be shunted aside.  
In many organizations, the only women in senior leadership are the head of HR and maybe the legal counsel. To me, that's indicative of an organization that doesn't recognize its own gender biases. If you're trying to hire the best talent, but that talent happens to all be male, it should be a sign you're doing something wrong.
Globally, attitudes about educating girls and access to education for girls are a huge barrier to equality. As Hilary Clinton said at the 1995 UN Women's Conference "human rights are women's rights and women's rights are human rights." As the school kidnappings in Nigeria remind us, that's an idea that far too many people don't subscribe to. Nicholas Kristof's article, "What's So Scary About Smart Girls," is just one of the most recent pieces of writing on the importance of education for girls. So many women have written articulately about this subject, but Kristof has the same messages: women's rights are not a women's problem, but a human problem. We need more men to see inequality as a human issue not a women's issue.  
What women inspire you?
So many women inspire me! I'm privileged to know tons of bright, interesting women, many through my alumnae networks from high school or college. The women in my life are interesting and interested: in good conversation, in learning new things, in learning about you, in sharing their own experiences, in connecting people to each other and in making their mark professionally. I hope that all other women have the good fortune to have supportive and engaged groups of women in their lives. There are so many women making a difference in the world who I admire, but it's personal connections and relationships with the women in my life that inspire me day to day.  
What books or media have had an impact on your life?
I'm a voracious reader. Fiction, non-fiction; business, history, memoir, and popular science; bestsellers and YA, classics; fashion magazines, National Geographic; the New York Times, and US Weekly. Everything adds to your understanding of the world, human nature, and the human experience. I read because it's fun and informative, and because of the same questions that drew me to be a history major: Why do people do the things they do? Why is the world the way it is? Why did an event happen the way it did?
 
What's your favorite thing about yourself?
I have an excellent memory and a very good sense of direction. My memory was key to me winning hundreds of thousands of dollars on a game show. I'm good at navigating, and I pride myself on not needing a map to get someplace if I've ever been there before (so that's a testament to a good memory and good sense of direction!).
Follow Julia on Twitter @JeopardyJulia.