Many of you may have heard of Karrine Steffans. You might follow her on social media, or at least think you know something about her life. The thing is, though, that's impossible. Karrine is mysterious, calculated, brilliant, sex positive, confident and ambitious. She's a best-selling author. She is a mother. She is an entrepreneur. She is all those things and so much more. Did you know she gives incredible advice? That she is deeply committed to an all-natural lifestyle?
When she told me she was in the midst of wrapping up her final memoir, I wanted to make sure I did my part to get her words out to as many people as possible. Her message is unabashed, unexpected and entirely too real. What she has to say is important — not just for women, but for men, too.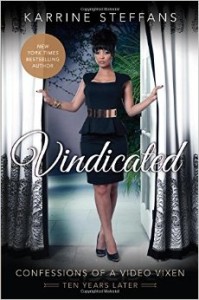 You can read my conversation with Karrine about the inspiration behind the book (and much more) below.
How did you decide this book was going to be your last memoir?
When I got the deal for this book, I had no idea what it would be about. My publisher was stuck on the success of my first book, Confessions of a Video Vixen, and wanted to almost duplicate it. But, that was ten years ago and I don't know any 36 year old woman who is interested in duplicating anything they did 10 years ago! So, I thought long and hard before starting this book. I talked to close friends and my then boyfriend and asked what they would like to see from me. I needed the opinions of people who loved me and wanted the world to see what they see in me. After much deliberation, the subject of the book became clear, but it was still a difficult book to write. It was a story I needed to tell, one I needed to give back to the universe, but also one I was afraid to let go of.
What are some of the most difficult topics you address in the book?
It's most difficult to admit to the cycle of abuse I was caught in for upwards of nearly seven years, and at a time when the world thought I was living some sort of wild, sex-filled, highlife. I found it difficult to explain how broken I was, how long I suffered, and how dependent I was on the men in my life. It's almost embarrassing to admit to allowing one man to ruin me emotionally, mentally, physically and financially but it is a part of my story I could no longer hide. Someone, somewhere, needs to know it.
You've been tackling some serious issues on your social media platforms. Most notably, women and the shame that can surround their sexuality. What made you decide to speak up about this?
I have spent the majority of my decade-long career, not talking. Over the past 8 years, my interviews and appearances have become fewer and farther between. That wasn't because I had nothing to say, but because it wasn't the time to say it. I have always been ahead of my time, as well as aware of prior times, and I have always been painfully aware of myself and of the world. What I needed, however, was maturation. I needed to accumulate even more life experiences and to see those experiences through. My life needed more of an arc. This season is mine. This is my best time. My voice has always been loud and my presence has always been undeniable, but I needed time to mature. I took that time.
How has your past helped you dispense advice on this subject?
I hate the word "past." Everything is the past. One second ago is the past and when it's gone, it's gone––you no longer have it. Therefore, I don't have a past, I have a life and my life has taught me a lot. With maturation came a lot of confidence and the proper distribution and usage of such. During my quiet, dark years, I worked and studied. I listened. I self-evaluated. I gathered a plentitude of life lessons and mantras that helped me to move forward and keep moving forward. The advice I give now, if the advice I gave myself and has worked for me but I couldn't share it until I was sure about it.
What do you hope women take away from your book?
I hope girls and women take from my messages whatever they can, whatever they need, and what stands out for them. Everyone interprets everything differently and I can't dictate what each woman should derive from my examples. What I can say, however, is that I hope to inspire more women to be open and honest, to snicker in the face of shame and to know that if shaming is despicable, so is being ashamed. I hope I inspire women to live out loud and with no apologies or regrets, and to welcome their missteps and misjudgments, just as openly as they do their keener decisions because they are all victories!
What do you think men can learn from your message?
I love men. Men are necessary and I don't think they hear that enough, especially from women. They are beautiful creatures that have been just as lead astray by society as women have. Men have their own set of societal struggles and obstacles to overcome, and finding their identity can be as daunting as it can be for women. Though I may be considered a feminists, I don 't believe men and woman are equal, as much as we are complimentary. I don't want to be like a man. I don't want to deal with many of the pressures society put onto men, and I am sure men would not volunteer to deal with the pressures put on women. We have different roles and responsibilities, though these roles and responsibilities are no doubt interchangeable –except a woman's ability to give birth. That is strictly ours and the main reason we will never be equal to them. Besides, the want or need to be equal infers we are beneath them and I've never been a fan of that ideology. Still, as a human woman, I deserve the same rights and opportunities as an human man. All that being said, I want men to know that I love and appreciate them and that my right to be treated as an equal, sexually and otherwise, does not in any way diminish their role in my life, our communities, or the world. I am not in competition with them. I do not want to be like them. I just want to be free to be me and not be hated by men, all of whom I love and appreciate, all of whom should love and appreciate me. God made us to work together and anything other than that is not just socially detrimental but blasphemous.
How do you hope to change their perception of women's sexuality and women in general?
Here is the thing: if men thought more highly of themselves, they would think more highly of the women they have sex with. A woman who has been touched by men, is seen by men as dirty. This tells me that men see themselves and other men as dirty and capable of sullying a woman's reputation. It is not their perception of women that needs to be firstly altered, but their perception of themselves. Why do they see themselves this way? Why don't men see themselves as good and everything they touch as good? Why do they hate or envy other men so much that they become obsessed and so bothered by the past presence of other men? Women don't tend to do this. Women don't shun a man based solely on his past sexual partners and, in fact, show more security than men in these situations. Why are men so insecure and their egos so fragile? Why do they claim to be so powerful, yet, they can't even stomach the thought of other penises? There are all these questions, and I hope to make men question their perception of themselves before questioning anything else.
How you think it needs to change?
Once women take their power back by loudly owning their bodies and the decisions they make for their bodies, and by showing they cannot be shamed, men and society will lose its hold on women. Women live in a fear-based state of mind, making or not making decisions based on the fear or being shamed, judged, and ridiculed. But, there is nothing to be afraid of. We may not live in a perfect society, but it is still a relatively free society and women have the ability to change it and keep changing it! The term Own It takes on a whole new meaning when we apply it to sexual bias and it should be every woman's mini-mantra. Magic Johnson once told me, "Power is in ownership." I apply this to all aspects of my life and find ownership the only way to change things.
What's your favorite thing about yourself?
I love every damn bit of myself. Physically, I'm amazing. I love my hair, my skin, my nails. I love my perfectly placed stretch marks as they wrap around my fat, jiggly bum. I love my navel because it's shaped like a a teardrop and my birthmark that looks like some Eastern European country, right in the middle of my back. I love my feet. They are unmarked and soft because I refuse to walk and I hate high heels. I love my voice, especially first thing in the morning, and I love my teeth because I've never needed braces and they're damn near perfect. I love the way my breasts, waist, and hips are proportioned and how my body has filled out over the years. I'm a real woman, now!
God made me so beautifully, but that's just the outside! The inside is even more remarkable. I love, love, love my strength and my resolve. I love my courage and (obviously) high self-esteem. I am in love with my brain and the way it works. I love being so cerebral. My laugh. My weird, dry sense of humor that sometimes makes thin-skinned people wince. My resting bitch face, which spawns from my resting bitch attitude. I love that I really, honestly, and truly, don't care about 99% of the things other people do or want me to care about. I love that I have learned humility and compassion over the years, that I never gave up on love, and most of all, my faith in God.
I could go on and on about the things I love about myself because I think I am absolutely perfect the way I am today and however I will be tomorrow. I accept the things I cannot change and change the things I can. I am not influenced by the world around me and I have prepared the perfect bubble in which I am surrounded by peace, love, and harmony. This is a long answer to a short question but I just want other women to see –– self love goes on forever and when you love yourself, not even a hundred words can express just how much or why.
More information on Karrine:
Buy Vindicated: Confessions of a Video Vixen Ten Years Later
Follow her on Instagram @KarrineandCo
Follow her on Twitter @KarrineandCo