Kirsten Smith, or, as she's more widely known, "Kiwi," is one of the most charming, magnetic women in Hollywood. She's honest, funny and incredibly feminine, but you never for one second take her for something less than brilliant and an absolute force. You know Kiwi from watching the movies she's written over and over (and over) again. Classics like "10 Things I Hate About You," "Legally Blonde" and "The House Bunny"- to name a few of my personal favorites.
Most recently, Kiwi has written my new go to book suggestion, "Trinkets." It's the story of three high school girls from different cliques and different walks of life who meet in a shoplifters anonymous meeting. The way she tells the story is magical, and each girl brings something so uniquely amazing to the book that by the end you want to be best friends with all three.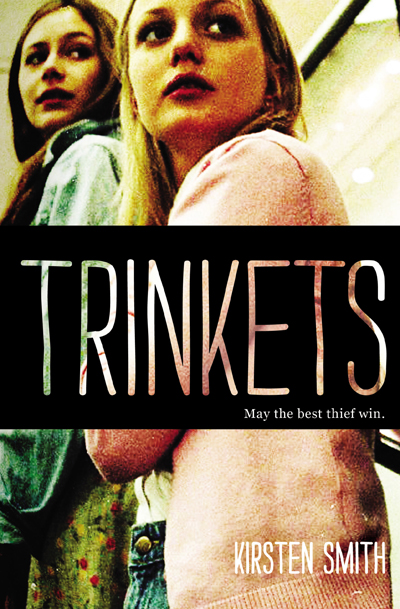 Read this book immediately!
I was so excited to talk to Kiwi about being a modern woman because her perspective is truthful and fresh and basically there is no one like her on the planet.
Over the years you've created some amazingly strong and unabashedly feminine characters. What or who has been your inspiration?
I'd have to say Madonna. I remember seeing the video for "Lucky Star" the first time at 14 and being super enchanted. And then I saw her interviewed by Dick Clark and he asked her what her plans were and she said, "To rule the world…" kind of coyly, but also like she truly meant it. She was beautiful and boundary pushing and also funny and sassy and smart. She made ambition sexy. And she seemed like she was having so much fun being creative.
Do you consider yourself a feminist?
Yes I do. For me it's also meant having no limits and also really loving other women. It means saying you think the female characters in "The Hangover" suck even if it's a funny movie and everyone loves it. A feminist speaks her mind and speaks against sexism. A feminist fights the good fight and isn't afraid of offending the mainstream.
How do you think feminism has evolved over the last 40 years?
Feminists now can be far more girly and friviolous than 40 years ago. Feminists used to be more serious- now we can have more fun since women have gained an economic foothold as equals here in the U.S. It seems like we've reclaimed our femininity to some extent.
Do you think the judgement of women by women is a problem? What do you think women can do to be more supportive of one another?
I do and sometimes I've caught myself doing it. Then I remember we've got to be sensitive to one another and to push through our paranoia that there aren't enough places at the table for all of us. We can all be there together and share our experiences and move forward together with love and generosity. Whenever I'm in doubt of this, I reach out to a friend like Lynda Obst with a question and she's right there to talk it through. She really rocks the feminist ideal in that way.
What women inspire you?
Kate Bush seems to be one of the coolest ladies of all time. Laura Mulvey the feminist film critic. Amy Poehler and Lena Dunham. Courtney Love. Katharine Hepburn. Tavi Gevinson. Betty White. Nora Ephron. Malala Yousafzai. The female movie studio presidents like Amy Pascal and Donna Langley and Sherry Lansing who play in a high stakes world with toughness and femininity.
Inspiration is one thing but you can't get anywhere without being mentored. My mentor was producer Catalaine Knell, who hired me to work at CineTel Films in the mid '90s and taught me about script structure and developing a story. Plus, she instilled the spirit of mentoring and teaching and how that's part of the fun of the job. She was mentored by Tony Scott and that's what he taught her, which she passed on to me.
What books, music or movies do you suggest to other women for inspiration?
"The Philadelphia Story" and "All About Eve." Liz Phair's "Exile in Guyville," Laurie Colwin's "Happy All the Time" and her short stories. Sharon Olds' poetry. "Live Through This" by Hole- any videos of Courtney Love performing live with Hole in the late '90s and early 2000s. "Truth or Dare," the Madonna documentary, and of course "Desperately Seeking Susan." "Ladies and Gentleman the Fabulous Stains." Anne Sexton and Sylvia Plath. Ani DiFranco. The Yeah Yeah Yeahs on record and definitely live. When I watched the Siouxsie Sioux videos I was blown away. I'm reading about Frances Marion, one of the first female screenwriters, and she lived an incredible life that's really inspiring.
Recently I was in a defeatist state of mind so I blasted Katy Perry's "Part of Me" and everything got better.
Follow Kiwi on Twitter @KiwiLovesYou.
Image by Kurt Lustgarten