Anyone who is a fan of amazing movies is familiar with the work of Lynda Obst. She's produced some of the most famous films of the last few decades, from Adventures in Babysitting to Sleepless in Seattle and How to Lose a Guy in 10 Days– grossing over one billion dollars in the box office. My personal favorite, Someone Like You, was developed over ten years ago and is still incredibly relevant and ridiculously charming.
Besides being one of the most influential producers of our time, Lynda is an outspoken advocate for women in film. Her books have frankly discussed her experiences in Hollywood as a woman, and puts the conversation of gender inequality in entertainment on the table.
In her latest book, Sleepless in Hollywood: Tales from the New Abnormal in the Movie Business, Obst talks about the shift of the classic movie studio paradigm- where smart movies were being made and you could push a brilliant and clever script through to completion without the necessity of a potential sequel or it being a franchise film, to the current situation- where Hollywood is hyper focused on male-oriented and superhero films, even to the detriment of the creative quality of the industry.
What do you hope readers take away from Sleepless in Hollywood?
I wrote this book to figure out why making "one offs," or original scripts that can't generate sequels, what we used to just call "movies," were getting so much harder to get made. And why there were so many more superhero, caped "Man" movies going into production. It seemed that even lousy fake graphic novels were easier to get developed than anything involving women, or ideas, or characters. I hope my readers will understand why this happened, and not take it personally- as Nora once said, "take it as a group."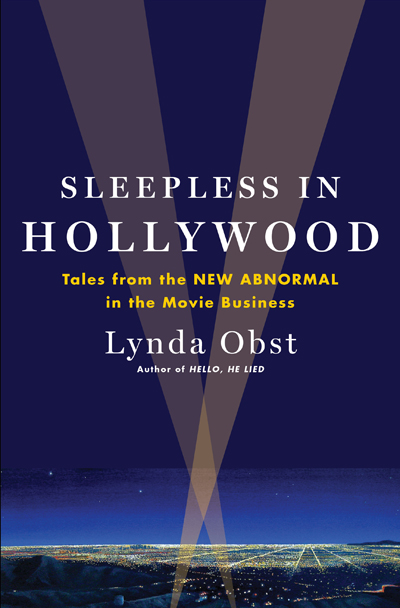 CLICK HERE TO BUY
You're one of the leading advocates for women in film. What aspect of gender equality in entertainment is the most important to you?
That there are great parts for women as leads, complicated real women that aren't projections of male fantasies. That our stories are told, we have such interesting lives, especially now that we are breadwinners. And that we have equal employment opportunities as showrunners and directors. That we are not shut up.
Do you think the film industry has made positive strides for women over the last few decades?
Yes and no. I have been asked this question so many times and it seems like it's been the same in some ways throughout the decades I've been asked. There are more of us in the middle, there are still the greats at the top, and they've stopped making our movies. Why no more Bridesmaids? Why, after the great success of that movie, even internationally, do they still not recognize a female comedy market? Why is the only thing to come out of it is Melissa McCarthy's viability as a star? She wasn't when the picture opened. It stupifies me. The only non-generalizable hit is a female-based one. Only Judd Apatow can make romantic comedies. And everyone is thrilled to declare that genre dead, when only a few really bad ones failed. When one wildly succeeds, it will be attributed to the stars, even if they were unknowns before. Crazy.
There is a large disparity in the number of women vs. men behind the camera in entertainment. Besides yourself, who else is working tirelessly to make strides in this area?
Many many women. Too many to name. But it is a talent-based issue, and people will hire the very best person whom they know and can count on in the end.
Who/what inspires you most?
Nora Ephron, period. She was the greatest influence of, in, on my life. I still don't quite believe she is gone.
And then science.
What change would you like to see happen immediately for women in film?
Start making more female-driven pictures. Comedies, romantic and not. Friendship-based comedies. Romantic thrillers and dramas.
What do you think women can do to be more supportive of one another?
Genuinely like one another. Be happy for one another's success. See how you can help one another at critical junctures at your careers. Be there at tough times, be there at launch times. Just be there for each other.
Follow Lynda on Twitter @LyndaObst.
Photo Credit: Amy Stuart