Born in Vienna and raised in Ireland, Mercedes Helnwein has a one-of-a-kind artistic identity that leaves an immediate impact on its viewer. She's pursued art her entire life, from drawing and painting to filmmaking, and has found acclaim in every medium.
In addition to her aforementioned creative abilities, she's written a book, The Potential Hazards of Hester Day, that has been published in two languages, and she can play the strings off a banjo.
Through her tireless and exceptional work, she has already created a legacy of enormous talent and vision, and her mark on her industry is sure to be indelible.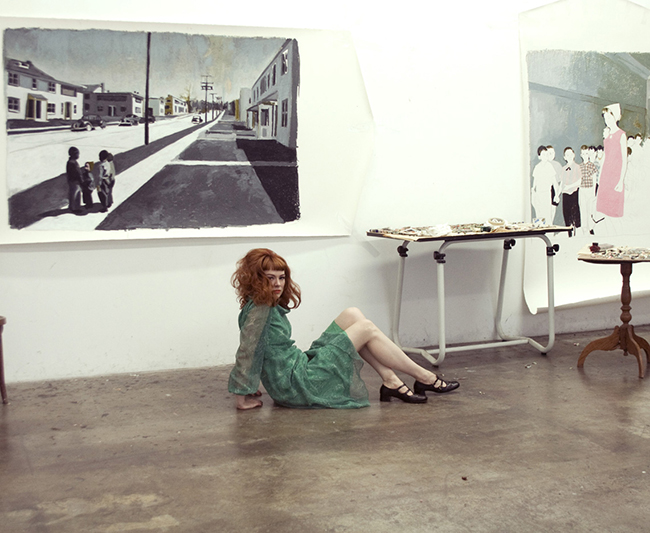 The women in your work are very complex and seemingly secretive. What do you want them to convey to their audience? 
I've always drawn girls and women — since I was about two-years-old. As a child I was fascinated by the beauty, mystery and elegance of women —including the clothes and trimmings that went along with them. Men, in comparison seemed so ugly and pointless.  In my mind women were far superior — no question about it. After hitting puberty, I began to see the value in men too, and now men make it into my work all the time.  
But the women I draw are essentially still the same women I drew as a kid. They look different (they're no longer mermaids or princesses) but they have the same qualities — they're unpredictable, beautiful, often well dressed, stubborn and trailing some strange situation behind them. Maybe they're innocent in certain ways, but they are definitely red-handed in plenty of other ways.  Women in stories or artwork that are simply helpless victims have never interested me much. There needs to be the slight possibility of danger — especially if they have a perfect hairdo.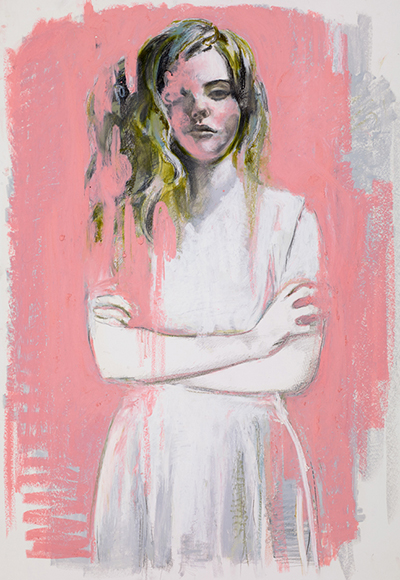 Wednesday • 2014 • black pencil and oil pastel on paper
How do music and film tie into your art?
Music is probably the biggest inspiration to me, although literature and words (poetry, lyrics, good sentences in general) are up there. The way I get inspired is usually not very clean-cut. I don't necessarily see an amazing painting and then want to go and paint, although that can happen of course. But most likely I'll want to write a story because I saw a painting, or draw something because I heard a specific song.   
I think all art forms cross-pollinate each other, and that's why a lot of my inspiration for visual art actually comes from a non-visual place.
When I was a teenager, trying to figure out what specifically to settle on in my life as a career, I decided to  write and do visual art because between the two of them I'd surely never get stuck in a dry spell. And that turns out to be a valid theory. Being able to move from one medium to another offers so much more freedom than strictly sticking to one. And different ideas require different outputs.
In the drawings and paintings, the moment is pretty stripped down to a minute particle of a second. You just have that one image frozen and you can build a whole story on it. Sometimes you don't need more than that — and in fact, more would ruin it. But on the other hand, sometimes you want all the angles at play at the same time, and you want the moment to have movement and sound interacting with color and light. When the idea needs more padding like that I'll switch to film.
What is your biggest "success" moment to date?
Well, the one that probably caught me off guard the most was when Damien Hirst bought out a show of my work in London. 
How has feminism played a role in your life? 
I grew up with parents who had the attitude that there is a total equality between the sexes, so it was never really something that was an issue. My dad is an artist and my mom has worked with him since the late '70s, doing the whole business side of things — there has always been the idea that they are a team.  
I never had the idea that I needed a man to depend on, or that safety or success means finding a rich husband with a brilliant career that I could be the arm candy to. That never even remotely occurred to me. My attention was always focused on drawing and writing and making weird films. I think my parents' attitude of encouraging us to pursue whatever we wanted had a lot to do with that. I am lucky to have arrived as a grown-up with complete freedom and control over what I do and how I do it.  
That idea that it's the man's job to have a career and the woman has to mold herself around that — I definitely disagree with that. In that sense I have a very masculine side to my feminine side of only wearing dresses and being easily hypnotized by beautiful shoes.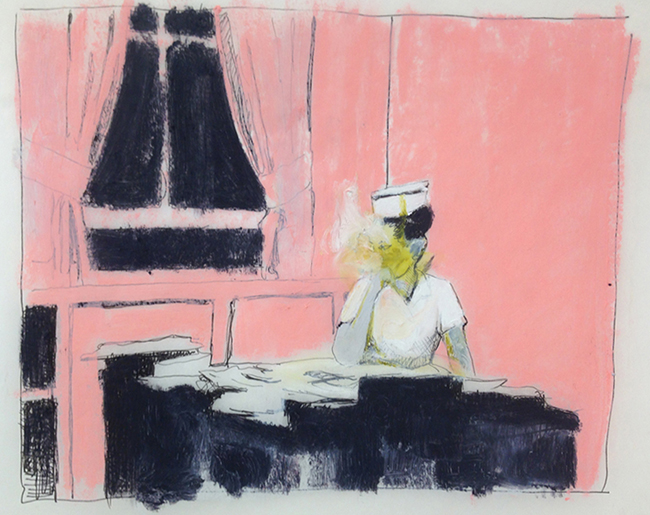 Green Nurse • 2014 • ink and oil pastel on paper
I should also mention that my dad has always been a bit of a feminist in my opinion. As an example, he painted 48 portraits of famous women to counteract Gerhard Richter's 48 Portraits — which are monochromatic gray portraits of historical people including writers, artists, scientists, philosophers etc. — all men. My dad's 48 portraits are all of woman, painted in the same size but in red. I was about 12 when he was working on those and would go into his studio and study the faces of these women and listen to the stories of who the were and what they achieved.  
Through these 48 Portraits, our family became good friends with Alice Schwarzer who founded and is editor-in-chief of the German feminist magazine EMMA. In fact, she gave me two pages of her magazine one time to write and draw a comic. As a 13 year old, I figured if you really want to balance things out between the sexes, you'd have to completely turn the tables. So I created a story about a world in which women had all the power and men were fighting for their rights. It was called "Men Fight Back."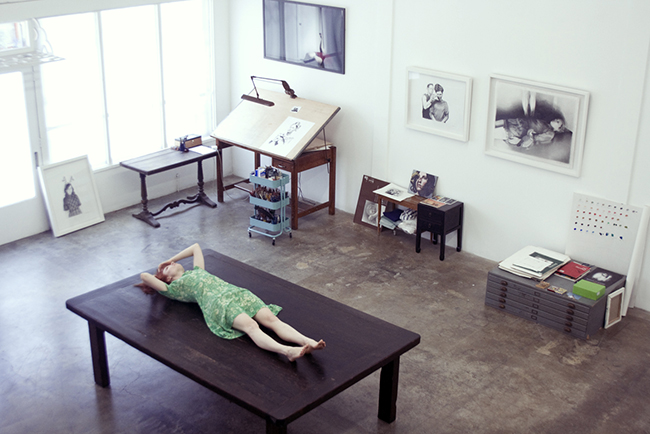 What women inspire you?
First and foremost my mother. Her attitude towards life, the incomprehensible way that she can solve pretty much any problem and do anything, and the energy with which she does it is beyond me. I don't know anyone — man or woman, who has that kind of talent and capacity for life.  
She was a tomboy as a kid, moved out of her parents house when she was fifteen and became a nurse. When she was 23, she traveled from Germany to India (by land) for a few months, living with families along the way. She met my father in Vienna shortly after the Asia trip, and they have been working together ever since. My dad is one of the most amazing contemporary artists, but he sure is lucky he has my mom. She is superhuman. She has an incredible and unique sense of style, raised four kids together with my dad, has the biggest heart of anyone I know, and plans on one day riding through Mongolia on horseback.  
The kind of women that inspire me are the ones that stand up to their potential and don't settle with what is easy or get lost in their physical beauty. Beauty is something you should enjoy the hell out of as a woman, but it shouldn't sidetrack you or become all consuming or the purpose of one's life. It shouldn't be the biggest asset or worth a woman is acknowledged for.
Three Nurses • 2011 • oil pastel on paper
What books or media have had an impact on your life?
East of Eden by Steinbeck is one of the best books ever written in my opinion. Other works that have had a big impact on my life are: the French film "Amelie," Bukowski's work, Tom Waits, classic literature from all over the world and maybe the biggest artistic influence of my life: early blues music — Blind Willie McTell, Charley Patton, Skip James, Leadbelly, Memphis Minnie, Slim Harpo and my favorite, Howlin' Wolf.
What's your favorite thing about yourself?
Maybe my work ethic. I get antsy when I'm not working, and therefore my capacity to work makes life a lot easier. 
Twitter @MHelnwein
Instagram @MercedesHelnwein