It isn't hard to buy into a project that focuses solely on encouraging kindness between girls and women, and the Kind Campaign is doing just that. Founded by Molly Thompson and Lauren Paul, Kind Campaign is an internationally recognized movement, documentary and school program that brings awareness and healing to the negative and often lasting effects of girl-against-girl "crime."
Molly and Lauren both experienced this particular type of bullying during their formative years, even to the point of no longer wanting to go to school. When they met in college, they became lifelong friends with an interest in spreading kindness to every girl on the planet.
The success of the Kind Campaign is truly immeasurable, affecting girls on a personal level, and their respective communities on larger scale. They recently partnered with Julianne Hough to create the first-ever Kind Camp, a day long experience for 120 girls who watched the documentary and attended four sessions each designed to encourage girls to support one another and use communication and empathy in their interactions.
I spoke with Molly about her goals with the project, her thoughts on bullying and how women can be more supportive of one another.
Molly and Lauren traveled across America in a mini-van with their moms, interviewing hundreds of females about the "mean girl" phenomenon.
How do you define feminism?
Feminism is being who I truly am rather than being what I think I'm supposed to be. Whether that's what society or my peers tell me to be, or how I see friends acting. Just embodying who I truly am without worrying about what the world is projecting on me.
My hope is that we come to a place where not only are each of us individually embracing who we truly are, but that society does as well. Right now there's a vicious cycle occurring, and we see the effects of it all the time within Kind Campaign. It starts with society constantly putting women in competition with one another, comparing women to each other and tearing women down for a multitude of things that are "wrong" with us. Each of us plays a role in the cycle as we buy into these messages, which leave us feeling like we cannot be our true selves and deep-rooted insecurities are instilled. We then live out these insecurities based on societies urging and initial example by tearing other women down in a failed attempt to make us feel better. By doing so, we're continuing the course for other females to not feel comfortable embodying who they genuinely are. 
It would be beautiful to come to a place of equality where every person is uniquely their own, where our differences are celebrated and not compared. To get to that place we would finally acknowledge the role that we play in advancing the cycle and allow this mutual experience to bond us together, so that together we rise up, support one another, and stop the vicious chain that is prohibiting us from our true selves.
Image credit: Elizabeth Wheelis
What's been the greatest success of the Kind Campaign that you've seen so far?
We feel most successful when we see change happen right in front of our very eyes, where we see girls start conversations with other girls they haven't spoken to in months or even years. Often times they utilize our apology cards, a simple sheet of paper that gives them the courage to give someone an apology, and take ownership of something they've done and start that conversation. That's such an uplifting thing for us because we see the impact of these conversations we're having with girls.
Also, hearing from girls and women after an assembly or a screening of Finding Kind means so much to us and allows us to see Kind Campaign's impact. I got this Facebook message recently that was just one sentence, and it made me start crying when I read it. It simply said, "Hi Molly, I don't know if you remember me, but you saved my life a while ago. Thank you"
Often Lauren and I are so engulfed in what we do and we forget to take a step back and see the reach of the campaign- and see the thousands of people who have been affected by it. Hearing things like that and seeing girls and women take action in a positive direction and treat other females in a positive way- that's one of our greatest moments.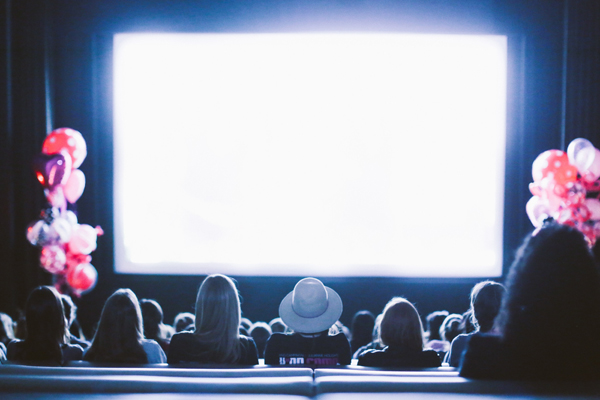 Image credit: Brandon Kidd Photography
What do you think girls and women can do to be more supportive of one another?
One of the first things is just to know we are all in this together- and allowing that realization to empower us to support one another rather than tear each other down.
We all have it hard enough, from the messages we're receiving to our experiences out in the world. We can sometimes feel trapped in these insecurities, but if we unite based on this common experience that will lead to us supporting one another's beauty and intelligence and wit. There's so much power behind that.
Also, I think it's important for us to realize that everyone has a story. As females we can be so quick to judge someone based on what they're wearing, who they're talking to, or how they're projecting themselves, but we don't think about why it is they're acting a certain way. We won't fully have an understanding of what someone is truly dealing with if we let our judgments get the way of an opportunity to sit down and have a conversation with them and understand what it's like to walk a day in their shoes. I think girls and women would be more supportive of one another if we took the time to have those important conversations. And I think we would be surprised to find out that the "popular girl," "bully," "loner," "social butterfly," and so on all have something difficult they've dealt with at some point in their lives that has impacted who they are today.
What advice would you have for a girl who is being bullied?
Recognizing that she's not alone. When I was in high school and when Lauren was in middle school- just that feeling of loneliness takes over and makes you feel like the experience will never end. Just by registering she has a support system of thousands of females all over the world will allow her to see that this is not her entire experience, and she will get through this. We encourage girls and women to have enough respect for themselves to have a conversation with the person you have a conflict with. There will be conflicts and issues that arise within friendships, and one thing females have a tendency to do is talk to their friends about the problem, and that can create rumors and drama. If the two parties talk about the issue they can reach some type of resolution.
That's not to say it will always end up perfectly and the girls will end up being friends, but to just talk about it can help avoid unnecessary pain and drama.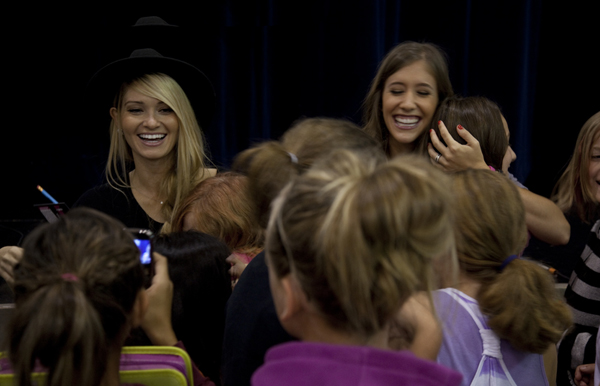 Image credit: Amber B Dianda
What women inspire you?
My mom. Hands down. She is such a strong and loving woman. Sometimes those words don't get used together to describe someone, and she's both. From a very young age she taught me I can do whatever I want and be whoever I want, and she's taught me the power of loving people. I think people can see that within her. There's something about her that's very recognizable- that she's approachable and she won't judge you. She has the biggest heart of anyone I've ever met. She's so strong and courageous, and she inspires me every day.
What books or media have made an impact on your life?
When looking for inspiration, depending on what mood I am in I listen to a range of artists from Nicole Vaughn (RANGER is her stage name, check her out – she's phenomenal, she traveled with us on our second road trip across the country and actually a lot of her music is all throughout Finding Kind) to Alt-J to the power ballads of Sara Bareilles and Katy Perry that empower women, to a new up and coming artist that Lauren told me about actually, Betty Who. I'm constantly asking Lauren for music recommendations because she is always showing me new artists that I've never heard of before, but the second I hear them I fall in love with them and listen on repeat.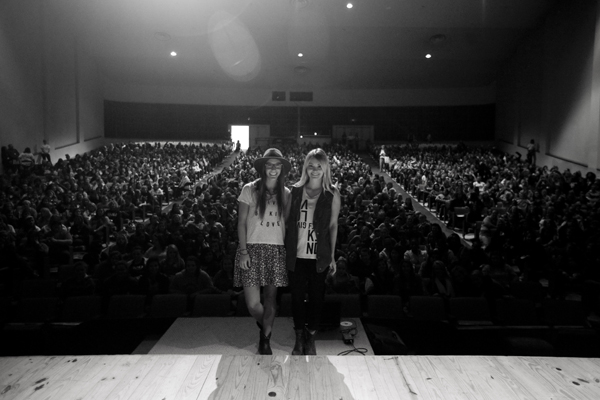 Image credit: Jennifer Willard
What's your favorite thing about yourself?
I'm a very loving person. I think that has helped me in what I do on a daily basis when I meet girls, but also has allowed me to have some very incredible relationships in my life. The caring and nurturing side of me is something I'm thankful for.
Follow:
Kind Campaign on Twitter @kindcampaign
Kind Campaign on Facebook
Molly Thompson on Twitter @mollymaethomps
Main image credit: Jennifer Willard