I received Rachel Cooke's Her Brilliant Career: Ten Extraordinary Women of the Fifties as a gift, and haven't stopped talking about it since. I was barely through the first chapter before I purchased several copies to pass along to the women in my life.
A British author and journalist, Her Brilliant Career, is Cooke's first book, and delves into the lesser-known lives of professional women in a time where nuclear families and picket fences were thought to be the norm.
The book is a brilliant and unique insight into feminism, and shines a light on the unsung heroines who helped pave the way for modern women in the workplace. It's no surprise that Cooke is equally as brilliant and enterprising as the women to whom she gave a voice, and in me she has gained a fan for life.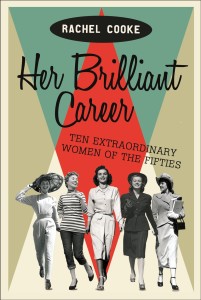 What inspired you to share the stories of these amazing trailblazers of the '50s?
As I say, in the book, my inspiration was a piece of furniture I bought on eBay for my kitchen — a sideboard made by a company called Ercol in 1954. It seemed so modern to me, and I began to wonder about the women who might have longed for such a piece of furniture back when it was made. We're told over and over that the Fifties was the domestic decade, a time of smiling, lip-sticked housewives, but I began to wonder… What were the owners of this sideboard trying to tell the world about themselves? Mightn't at least a few of them have had careers? I couldn't believe that the feminism of the Sixties had come out of nowhere. So I began to investigate — and sure enough, I found there were lots of pioneering women who had worked. It was just that we had forgotten them somehow. I knew I was on to something when I realised I was going to have to have a beauty pageant to see who would make the grade in terms of my book (I wanted to tell 10 stories). I had too many, not too few! In the end, I went with those who'd had the most significant careers — I mean they'd done work of lasting value that's still around now — but who also had, shall we say, pioneering private lives, too. I'm not sure you can always separate the public and the private. The two seem so related to me. Plus, I'm a gossip!
Which woman's story did you relate to the most?
This is a hard question to answer. While I was writing the book, I fell in and out of love with them all, as you tend to do when you're writing biography. I suppose the career I would most have liked to have myself is that of Rose Heilbron, who was the first woman to defend in a murder trial in a British court, and eventually went on to become Britain's first woman judge. She was clever and beautiful and exceptionally calm and clear-thinking — and she saved men (and women) from the hangman's noose over and over again. But the woman I'm most like is Patience Gray, who was the author of Fifties' best-selling cookbook, and a journalist on my own newspaper The Observer. I'm a keen cook, too. However, my favourite chapter is the one about Sheila van Damm, the rally car driver who went on to run the Windmill Theatre in Soho. She lived with two other extraordinary women and between them they had so many secrets and so many famous friends – even Marlene Dietrich and the Beatles — and it's all just so eye-popping, glamorous but sad, too.
What lessons could we learn from the women you featured?
The main thing is: keep going. These women were all so stoical. Also, be pragmatic. Say yes to things, even when you might not quite sure if you're up to whatever is being asked of you. That's what men do; it's how they get on. The women in my book took every opportunity that came their way; they grabbed with both hands, and worried about the consequences afterwards.
How has feminism played a role in your life?
Oh, yes. I don't see how it could not have. I was very involved in it at university — I was always going on marches — and I've never lost my conviction that life is still deeply unfair for women and that we have dozens of battles still to fight; the whole system is weighted against us. I can't stand it when women get all nervous around feminism. It's just so feeble and short-sighted and dumb.
Who inspires you?
So many people. I'm a big one for heroines. I tend to revere other writers. At the moment: Kate Atkinson, Tessa Hadley, Joan Didion.
What books or media have had an impact on your life?
On TV, Brideshead Revisited, a British adaptation of Evelyn Waugh's novel that was screened in the early Eighties. In the movies — don't laugh — The Railway Children, which is based on the E.Nesbit children's story and came out in 1970. Also, Mad Men.
Books, there are just so many, but if I had to pick just three: The Whitsun Weddings by Philip Larkin; Persuasion by Jane Austen; Heartburn by Nora Ephron.
What's your favorite thing about yourself?
I try not to indulge in too much self-love. But one really great thing about getting a little bit older is that you do feel better about yourself in general. You know your own mind, and your taste, what you're good at, what clothes suit you.
Follow Cooke on Twitter @MsRachelCooke.
Photo credit: Charlie Hopkinson