I love what Romilly is doing to set herself apart from her peers. She's already figured out what so many of us are forever searching for: her true passion in life. She's made a name for herself through her website, boasting the tagline, "Teenage Girl, Adult Food." She also has the honor of being the youngest chef/contestant to appear on the Food Network's hit show, "Chopped."
One of my favorite things about Romilly is how genuine she is. You can tell she truly loves what she does, as well as being kind and generous in helping others find their way through the kitchen. I can't wait to see what the future holds for this bright young chef. As well as being kind and generous in helping others
The restaurant industry seems to be fairly male dominant. Do you foresee any difficulties because of your gender?
I haven't encountered difficulties yet, mostly because I'm not working in restaurant kitchens or in a working environment with other chefs. I've always been drawn to the television and writing side of the cooking world which Is actually an area where women are just as common as men and are thought of as just as important and talented, which I think is really nice. However, I do think it's harder to be a female chef and I think it's important that female chefs not only be accepted in kitchens but that they be thought of no differently than male chefs. It should be about your food and your abilities, not about your gender. A chef is a chef, no matter what.
How did you get your start in the kitchen?
I started watching the FoodNetwork when I was nine and became totally hooked. I realized cooking was not only something I was interested in, but something I wanted to pursue. I learnt all the basics by sitting in front of the TV and watching Giada and Ina do things like chop onions or core apples, then I would go into my kitchen and try it out for myself. No one in my family can cook so I really took it upon myself to learn as much as I could and get help from talented chefs along the way.
What inspired you to take it to the next level?
I think my dream has always been to be able to share my love of cooking and food with others and be able to share it with a wider audience. When I was 11, I stared a series of YouTube videos called "The Little Girl In The Kitchen" which were totally goofy and consisted of shots of me parading around my kitchen in my mother's high heels and making food ideal for dinner parties or Sunday brunch, but I had a lot of fun making them and they really made me realize what I wanted to do was to talk about food and cook in front of a camera. I also started my food blog at that time and both things became a huge part of my life and I was lucky enough to have other people really enjoy them as well. That was when I decided I wanted to move forward and try to make a name for myself in the cooking world, it's been a lot of fun!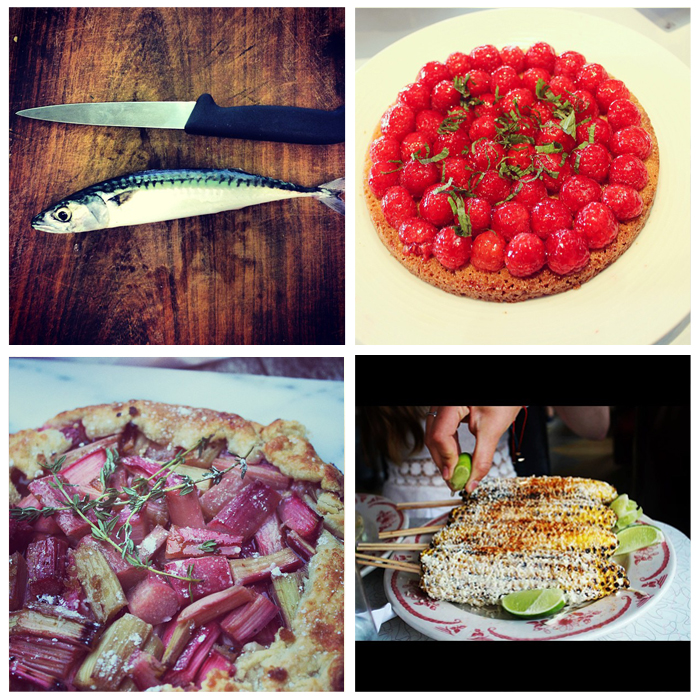 Images from Instagram @RomillyNewman
What does the word "feminism" mean to you?
For me, feminism is about being strong and supportive of one another, and knowing what you want and deserve. I think all my friends can also agree with that, even if they don't all identify themselves as feminists.
Have you experienced bullying?
I've never been bullied per se, but teenage girls can be incredibly catty and hostile towards one another and I've experienced my fair share of experiences with that. Teenage fights tend to be pretty vicious and they do take a toll on you, especially because you're at an age where you're much more vulnerable and naive; it's harder to not let things people say or do affect you. I think it's extremely difficult to handle these situations calmly and well- you often get so caught up in badmouthing this person or making it into a bigger thing than it is that it's difficult to take a step back and really evaluate what the situation is and how to solve it or move on.
Do you think many of the problems young women face are at the hands of other women?
If you're asking if women have a negative affect on other women in school and in the work place, it's very much about you and your situation. If you don't let another woman's criticisms or remarks affect you and you just brush it off, then no they don't.
What do you think we can do to be more supportive of one another?
I think one of the biggest problems is jealousy. We're all so focused on ourselves and what we're doing that we often have difficulty supporting others. If we all stop comparing our lives and situations to those of our friends and people we know it would be a lot easier to support each other.
What advice would you give other girls who may be facing problems with their peers?
I think the worst thing you can do is let criticisms or remarks change you or make you rethink who you are. As cliché as it may sound, you really have to stay true to yourself and not let others change what you think of yourself. As terrible as situations may seem at the moment, they all do pass eventually. Thats something I learnt the hard way, but it still stands true and is the best advice I can give.
Who are some of your role models or mentors?
Julia Child, Coco Chanel, Marcus Samuelsson, My Grandmother, Alice Waters and Tavi Gevinson
What books have made a difference in your life?
My Life In France by Julia Child has been a very important book in my life. I first read it when I was quite young and saw it at face value, but when I moved to France for a year I saw it in a whole new light and often found myself in the same position as Julia. It was the one thing that motivated me to keep cooking and exploring both myself and the city that year, but most importantly it taught me not to give up- cheesy but true!
Follow Romilly on Twitter @RomillyNewman.