The Period Store had been popping up in my Twitter feed, and although it piqued my interest (the design is impeccable), I didn't realize just how amazing it was until my BFF Karin called and absolutely raved about it. She doesn't rave often, so I knew this was a big deal. Besides, as the BFF rule goes, if she's into something, usually so am I.
The Period Store is incredible. Not only have they taken something that is often viewed as uncomfortable or inappropriate to discuss and made it commonplace, they've somehow managed to take something that can be painful and annoying and make it fun. FUN. I'm not joking! They have feminine products for everyone, from the well-known brands to eco-friendly lines to stuff you might not have even heard of. But that's not even the cool part. They send you snacks, candles, tea, art… literally a box of awesome.
I had to know who was behind this magical that-time-of-the-month fairy store. I was not surprised to find the trio of founders are just as excellent as their product.
What inspired you to start The Period Store?
We have to start by stating that Ashley and Rubi are the youngest in families of all girls and Nate grew up with three feisty southern sisters, so no topic was off limits in our households! But the idea for The Period Store started around the time Ashley was completing her undergrad in anthropology, which included the study of the social stigma attached to childlessness in a rural south Indian village. It was in India that she and Nate (her husband) started thinking more about the social issues surrounding periods. A few years later we all eventually met and became good friends in New York City, where one day we found ourselves having a random conversation about all of the products out there for period management. Products like menstrual cups, sea sponges and herbal remedies. We wished a place existed where women could discover these products alongside the more well-known ones. At the same time, we wanted a space where women could talk about menstruation in a shame-free way, where we could learn about the history of periods, and share stories and remedies from around the world. We realized- maybe we could make this place. And The Period Store was born.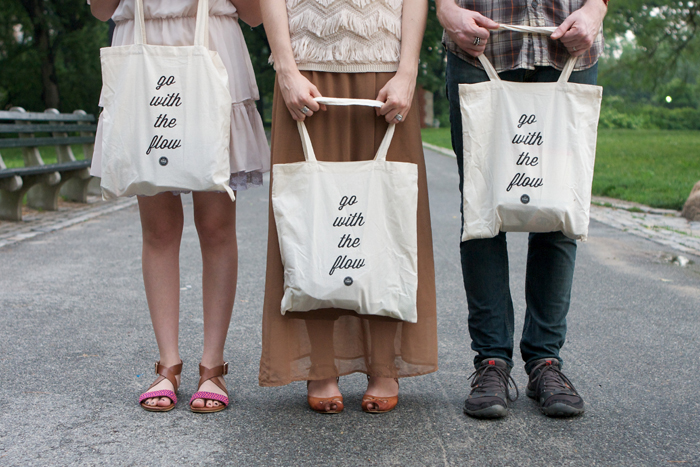 How do you describe what The Period Store is to someone who has never heard of it?
The Period Store is exactly what it sounds like! A shop for all things menstruation related. We offer traditional supplies along with the eco-friendly and international and sell them in a subscription service, so our members can always have what they need before their cycle begins. We include a few extra treats as well: gourmet sweets (August is a vegan black bean brownie!), tea, pain relievers and a 5×7″ archival quality art print that celebrates womanhood. Our members can also add extra one-time additions to their packages which include stain removers, accessories and much more to come.
A huge part of The Period Store is the community we are building- a community of women and men that engage in unbiased, honest discussion about menstruation. We also hope to empower women in need through our partnerships, collaborations, events and education.
What has been your greatest accomplishment so far?
The community. The reaction to our store has been as varied as periods- as in, every woman experiences her period differently, and so each woman reacts to our store differently. But we've had an overwhelmingly positive response and we're encouraged at the increase in talk around menstruation. And we should mention here that our site is not exclusive to women, but anyone who menstruates. We hope that any and all who menstruate feel comfortable with the period store, and we hope women who don't menstruate still feel like they can be part of the conversation.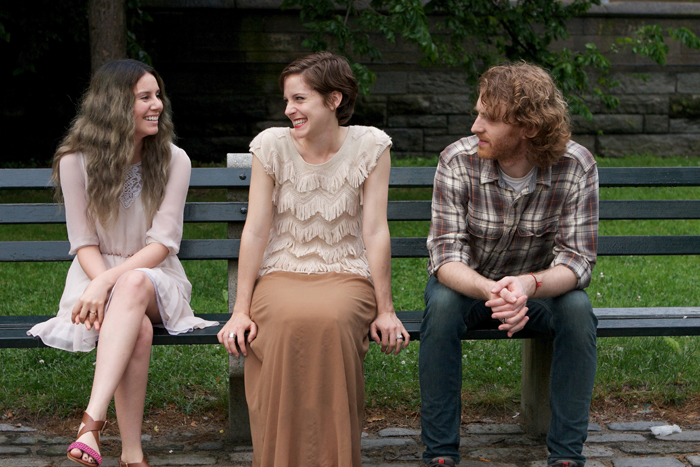 How did you know this idea was something that women wanted or needed?
We came up with the idea three years before we launched it. Like any big endeavor, it took longer than anticipated to get off the ground. The first year or so, Ashley and Rubi would mostly brainstorm and only work on it about one week out of the month. You can probably guess which week that happened to be! We knew it was something women wanted and needed because we would call each other as soon as we had our periods and say "we need to get The Period Store up." We shared the idea with close friends and they would do the same when they got their periods.
What really triggered us to get moving, though, was when we made the video on our home page in which we asked women in NYC about their periods. We had a few scheduled interviews for the video but we also asked a lot of random strangers on the street if they would be willing to stop and talk to us about periods. At first some were a bit hesitant, but once we asked the first few questions they were eager to talk about menstruation. That's when we knew this was a conversation other women besides ourselves really wanted to have.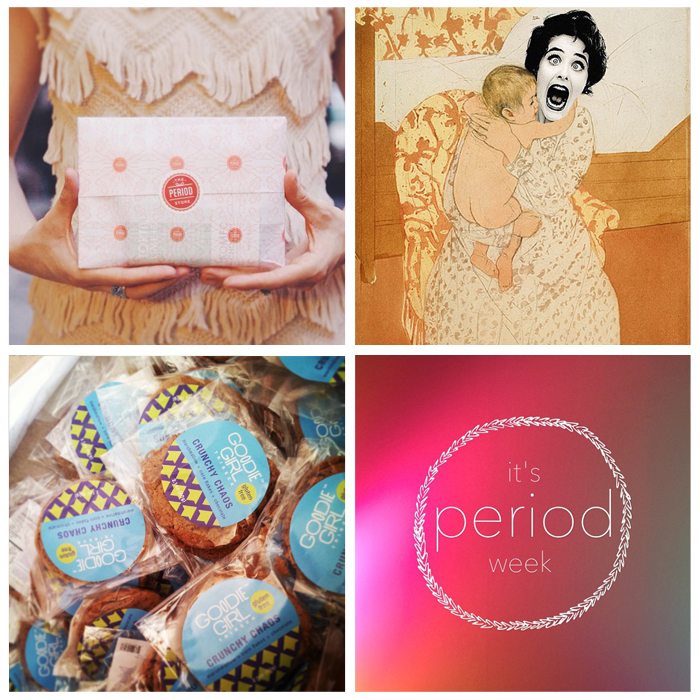 Follow @ThePeriodStore on Instagram
How do you define the word "feminist"? Does this definition apply to you?
We are all three feminists, and to us the word feminist means equality between men and women.
We love Antony Hegarty's Future Feminism manifesto and have seen other women mention it here on TWTO. Rubi is a feminist who wears Peter Pan collars. And Ashley believes that part of being a feminist includes embracing our bodies and everything that entails.
How do you think we, as humans, can be more supportive of each other?
Humans should make an effort to be more positive daily. There is so much negativity in the world! Especially with the Internet, where the anonymity makes it so easy to criticize someone or something without seeing the consequences. People should always try to remember there is a person behind what you see online, and it doesn't help anyone to put off negative energy.
Always practice compassion. Always choose to lift people up. Get to know people. Be authentic.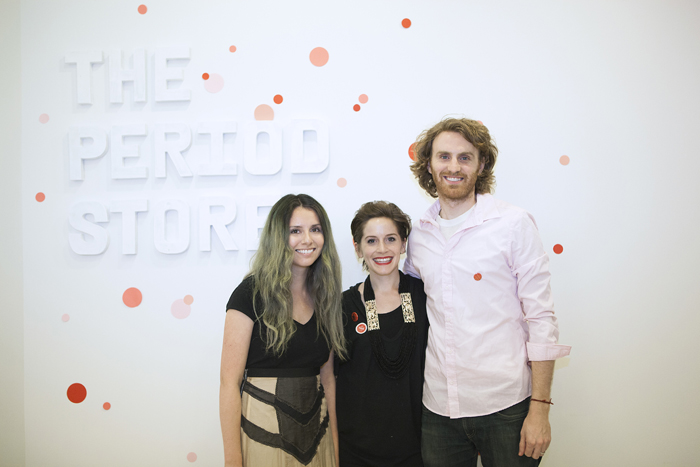 Who has inspired you?
Our list might be too long! We've always been inspired by the compassion of our mothers, by the creativity and work ethic of our fathers, the crazy creative spirit of Ashley's grandmother, Rubi's strong, hardworking and feminist grandmothers, the solid support and guidance of all of our sisters; family is a big inspiration for all of us. And any woman trying to do good in the public eye deserves admiration. Gloria Steinem is a huge inspiration to the three of us. For Rubi, it's Tavi Gevinson, Leith Clark and Sarah Sophie Flicker. Nate really loves his sweet, hard working mother and Nelson Mandela- both eternal optimists. For all of us, the women at HelloGiggles help us feel like we can do this alongside other passions.
What books or media have made an impact on your life?
For Ashley, the writing of anthropologist Meredith Small and the writing of Brene Brown. A Room of One's Own. Books about quiet living and thoughtful solitude like Walden. We're all still thinking about Anne-Marie Slaughter's "Why Women Still Can't Have it All." Rubi is obsessed with TED Talks. Nate says he's always been a fan of Laura Hillenbrand's writing, Lois Lowry's The Giver and, of course, Rocky. Can he say that?
Follow @ThePeriodStore on Twitter.