There is not one singular adjective to describe Sarah Sophie Flicker, although ethereal does immediately come to mind. Each week that goes by I learn something new and impressive about her vast talents. She is a founding member of The Citizens Band, as well as the director of award-winning video PSAs that raise awareness her many causes- from the environment to women's rights. She is a fashion icon and muse, with a style that is truly unique, graceful, sophisticated and gorgeous.
Because she does so much, and means so much to so many people, I asked her how she would describe herself- because I truly didn't know where to begin. Initially she modestly exclaimed, "I'm still figuring that out!" But, in true SSF fashion, she subsequently shared some incredibly insightful and wise thoughts.
Who is Sarah Sophie Flicker?
One really nice thing about getting older is that I've come to peace with not knowing who I am in full. I always thought I needed a definition or label for myself. I've come to find that I'm happiest when I'm multi-tasking. I'm happiest when I'm collaborating and bringing groups of people together in unconventional ways. The fact that I'm always learning, redefining and re-labeling who I am means that I will always be young.
That said, at this point in my life I can sort of answer the above question. I'm a mom of two (soon to be three), a wife, a director, performer, writer, aerialist and an activist. I am the creative director of The Citizens Band. Half of a film directing team with Maximilla Lukacs. Editor-at-Large for Lula Magazine, as well as a writer for HelloGiggles and Rookie Magazine, among others. And part of The Department of Peace, a yet to be defined political collective producing democratically made films and PSAs.
What exactly is the The Citizens Band?
We started The Citizens Band after the 2004 Bush "re-election." My husband and I have been organizing get-out-the-vote trips to swing states for some time. We took about 150 people to Florida to campaign for Kerry and returned heartbroken. Many folks on that trip were performers and musicians, so we started a political cabaret. My dear friend Jorjee Douglass and I had been milling the idea for some time, but that moment was the right one. We have been together now for almost a decade tackling issues such as voter apathy, the environment, immigrations, war, oppression, discrimination, debt, medical care, religion, human rights and inequality across the board. We hover around 22 members with about 15 or so being the original cast from 2004! We also have guest stars who come in and out.
We take old songs that tell the story of what's going on politically today and pepper in original songs as well. The idea being that, as humans, we repeat the same mistakes throughout time immemorial, it's not until we stop and recognize these patterns that change can be made. We look to the past to understand our present in the hopes of creating a better future. We do this in a fantastic never never land that takes place some time between 1880-1945. We have song, dance, aerial feats, magic and whimsy, but all with a message.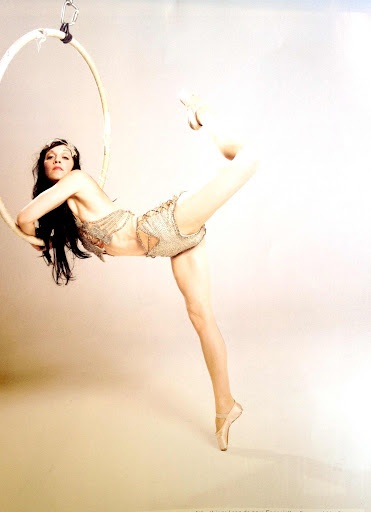 Image by Damon Heath, courtesy of Lula Magazine
I'm so proud of what we do because it is a true labor of love. I also maintain that collaborations are famously difficult and require us to be functioning at our highest capacities. Collaborations require us to check our egos at the door and meet each other in the middle. We are required to be open and respect each other. The fact that we've done this fairly seamlessly for almost ten years makes me so happy.
How do you define "feminism"? Do you think the definition has evolved in the last 40 years? If so, how?
For me, being a feminist has always meant equality between the sexes. This means honoring both our feminine and male traits. The definition of this changes, especially as we become more comfortable embracing the idea of femininity as powerful. In the past being a feminist sometimes meant emulating male models of power, and at the time, I think it had to be that way. Now feminism means fighting for equality, and by equality I mean EVERYONE'S equality. Women of all races, men of all races. I adhere to the premise that the gender line is the poverty line, is the race line, is the sexuality line. Meaning that all these things intersect and can't be parsed out from each other. We are all inexorably tied to one another and my freedom means nothing if everyone's freedom isn't honored.
For me being a feminist also means raising the best feminist humans I can. I certainly think men can be feminists and my goal is to raise my sons to be. To raise a non-violent, woman-loving man is a feminist goal I've set for myself. It also means instilling my daughter with strength, intelligence, pride, and a great sense of opportunity. I want her to believe anything is possible. One indication of feminism's evolution is how my daughter sees the world and her place in it, versus how I saw it at her age, and how my mother saw it at her age. When I look at it through the eyes of the generations of women in my family alone, I see how far we've come. My daughter won't bat an eyelash at a woman president, CEO or soldier. She won't have to choose between motherhood and work. So much more is possible for her and that alone is a victory of feminism.
How has feminism changed?
I think Anne Marie Slaughter's now famous piece "Why Women Still Can't Have It All" in The Atlantic really made a smart case for this. There are all the standard reasons why more women aren't in positions of political power, the glass ceiling, misogyny, inequality, etc. But one reason that wasn't talked much about until recently is family. I really get it now that I'm a mother. I constantly feel that I'm not doing enough, both for work and for my family. This constant guilt and being pulled in two directions is really difficult to reconcile. I ache when I'm away from my kids for too long. I just can't do it. I know my husband feels the same way, but it does feel inherently different somehow. I think women who have families have a real devil's bargain to make when it comes to public service and political jobs. Those jobs are unrelenting and require around-the-clock service. I don't know that I could do that at this point in my life. I tip my hat and bow deep down to the women who can. I met Michelle Obama once and thanked her and we talked about just this.
Like so many women, I just finished reading Sheryl Sandberg's "Lean In" and while it can't speak for everyone nor did it address every aspect of my life, I really loved what she had to say about men participating equally in family life. That men need to lean into family in the same way that women should be leaning into a career. People constantly tell me how "lucky" I am to have such a hands-on husband when it comes to parenthood and family life. I am lucky, but this should be the norm. "Lean In" really helped give me the language to discuss these issues that have always been really hard for me to communicate.
How are you raising your daughter to be more aware of the vast power of women?
Raising a daughter is difficult. My girl was my first and everyone said that boys were so much easier, less complicated. My daughter is the closest person to me, the most similar to me, and because of that, she is my mirror and I am hers. We reflect the best and the worst back at each other which is both beautiful and incredibly painful at times. Now that I have a son, and another boy on the way, I recognize that my son and I have much less fraught relationship. Our relationship is simple and loving and, dare I say it, romantic.
That said, my daughter teaches me more than anyone else has in my lifetime. She forces me to be a better person and forces me to understand myself deeply because she demands answers constantly. The issues that young girls face are raised much earlier than I hoped. Already I see her burdened by issues of body image, beauty standards, boy problems, insecurity about her intelligence, and she's only six! I try to talk to her a lot about all these feelings and be as honest as I can about all of it. I also try to be a good role model, which can be super complicated as well. The best I can do is let her be herself without trying to steer her too much in any one direction. I try to keep the communication lines open and constantly reaffirm the greatness and strength of women.
What women have inspired you in the past?
Oh gosh so so so many. This list will be really random because I'm influenced by so many woman who blazed the trail for us all. Zora Neale Hurston, Edna St. Vincent Millay, Fannie Lou Hamer, Louise Bryant, Maya Deren, Inez Miholland, Colette, Odetta, Sophie Tucker, Susan B. Anthony, Anais Nin, Bella Abzug, Shirley Chisholm, Isadora Duncan, Martha Graham, Pina Bausch, Dorothoy Parker, Gertrude Stein, Margret Sanger, The Suffragettes. Oh lord, so many wonderful women I could go on forever.
Who is a modern day feminist you admire?
My mother, Annette Stauning Flicker and my mother-in-law, Anne Labbouisse Peretz. Elizabeth Warren, Maxine Waters, Nancy Pelosi, Hillary Clinton, Sonia Sotomayor, Michelle Obama, Leith Clark, Lena Dunhan, Tavi Gevinson and the rest of my powerhouse girlfriends, Alice Walker, Gloria Steinem, Audre Lorde, Jessica Valenti, Sheryl Sandberg, Bell Hooks, Lesley Gore, Diane Feinstein, Joan Baez, Jeannette Winterson, Isabelle Allende…I mean I could go on and on…. really I could.
How do you think we as women can make a difference in the world?
In so many ways! We are half the world's population for crying out loud and we all know that women lead differently than men. We change the world in how we lead our personal lives and our political/public lives. First and foremost, we have to support each other. Women do each other a huge disservice simply by buying into the idea that we are competing with each other. I really believe in the power of sisterhood- and for me, this starts with the community of women I surround myself with. My group of girlfriends save me on a daily basis. Raising children together, working together and supporting each other through life's ups and downs.
Truthfully, not all women lead differently than men but many do. We often bring a broader lens in the sense that we are more collaborative, often more nurturing, have raised or are raising children. I may be biased, but I think we have a more compassionate perspective. These are all empowering qualities that bring a more inclusive approach to leadership. I love what Kristen Gillibrand is doing with her Off The Sidelines campaign to get more women into public office. Emily's List is doing an equally amazing push for the first woman president.
Follow Sarah Sophie on Twitter @sarahsophief and see her beautiful images on Instagram.
Featured photo credit: Yelena Yemchuck