Edgar-nominated author Susan Elia MacNeal writes the Maggie Hope series, which chronicles the early stages of WWII as seen through the eyes of Hope. In her first novel, Mr. Churchill's Secretary, even though she possesses one of the finest minds in British Intelligence her gender only qualifies her to become a typist at No. 10 Downing Street.
In the second novel, Princess Elizabeth's Spy, her new MI-5 skills are better utilized as she goes undercover in Windsor Castle.
In her latest release, His Majesty's Hope, Maggie becomes the first woman to parachute behind enemy lines. She has to overcome the hurdle of being a woman in a "man's" world and does so with intellect, beauty and a very forthright manner.
You get a sense of that brilliance and imagination in talking with MacNeal- she embodies the true spirit of Maggie Hope, even if she does have the good fortune to live in a more modern time.
How do you define feminism?
Rebecca West in 1913 said, "I myself have never been able to find out precisely what feminism is; I only know that people call me a feminist whenever I express sentiments that differentiate me from a doormat." That pretty much covers how I view feminism!
On a more serious note though, I'd like to mention that I prefer the plural term "feminisms" rather than the singular when speaking generally, because there have been different kinds of feminism, in different countries, dating back hundreds of years (the Utopian Socialist and French philosopher Charles Fourier is credited with having originated the word "feminism" in 1837).
And there are different ways of being feminist today— first wave, second wave, third wave, radical feminists, liberal feminists, womanists, and so many more. I feel it's not just gender we need to think about, but also race, nationality, culture, social class, etc.
How does it affect your life?
I'm grateful for the women who came before me, who fought for the rights we have now: to vote, to have access to higher education, to work in the public sphere, to speak out in the public sphere….
I'm thankful specifically to my mother-in-law, Mrs. Edna MacNeal, a single mom who raised my husband as a feminist. Our marriage is a true partnership, and comes without a lot of the baggage of gender role expectation that I see in the media and in real life. In other words, he's been "leaning in" as a husband and parent long before Sheryl Sandberg's book was published!
(I just asked him about feminism and he says, "My mom went out and worked and brought home a paycheck, and my grandmother took care of the house and cooking— so I just saw women as people who worked, both outside and inside the home. If there was a job to do, you did it. You never questioned if it was 'men's work' or 'women's work.' I never really thought about gender roles or expectations, because I grew up seeing women doing everything.")
What was your inspiration for your character, Maggie Hope?
You know, when I first started out, Maggie was inspired by a particular classmate of mine at Wellesley College, a woman who was brilliant, ambitious and stubborn- but not particularly tactful or socially graceful. But, as I kept writing, Maggie definitely became her own person.
She's significantly influenced by my late writing mentor, novelist Judith Merkle Riley. Judith was an academic in the '60s and '70s- in the field of Economics, which was definitely considered a male field. She had crazy stories of how she was discriminated against, including her finding (and attending) a secret faculty meeting held in the men's room.
Judith did so much and opened so many doors for women who came after her, including me. I was privileged to know her, and Maggie definitely shares a lot of her characteristics, including her sense of (sometimes sarcastic) humor.
Some people may think that Maggie's feminist attitudes are a bit prescient in the early 1940s, but Maggie is both a product of her Aunt Edith, an academic in the field of chemistry, and her environment, which was a women's college, where women's education and goals were taken seriously. She's read Mary Wollstonecroft and Abigail Adams. She's a follower of Eleanor Roosevelt and reads her newspaper columns religiously.
Maggie Hope might be somewhat unusual in her age, but not improbable- and certainly not impossible.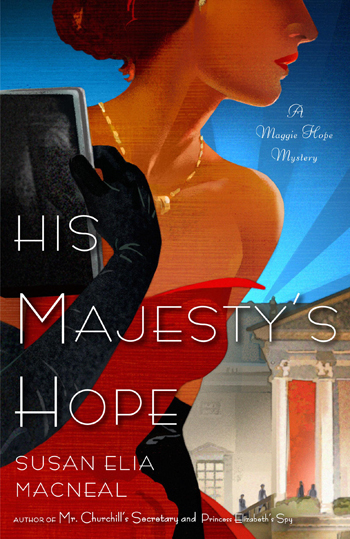 CLICK HERE TO BUY
Maggie lives in the early days of World War II, while you are definitely a modern-day girl. Do you feel as if you live in two different eras?
Yes, two different worlds, two different cities, two different sets of friends, two sets of clothes! I'm grateful to live in the version of the world with the polio shot and modern medicine, though.
I use the two-era thing as an excuse when I'm forgetful… "Hey, I'm a working mom keeping track of two worlds, give me a break!"
Maggie's career was hampered by being a woman. Do you feel that we have overcome some of the constraints placed on women in today?
Of course, many. Thanks to the women of Seneca Falls, we have the right to vote. We have the right to pursue an education. We have the opportunity to run for higher office, affect public policy, own property, have a voice in the public sphere.
On the other hand, sometimes I read the news and feel like I've been transported into Margaret Atwood's novel, The Handmaid's Tale. I'm talking about the so-called war on women, mandated transvaginal ultrasounds, "slut shaming," "legitimate rape," "shutting the whole thing down." It's frightening— these old white men with no understanding of basic biology who want to control women's bodies.
In my own life, I've had to battle sexism, from both men and women. One prominent female editor I worked for in book publishing said, as I was leaving her employ, that she only wanted to see job applicants who were women— because (and I'll never forget this)— "women are more submissive and make better assistants."
Then there was the magazine publisher who didn't want to pay me for the published articles I wrote on top of my regular job of editing, because he considered it "pin money." (In case any younger readers are wondering, "pin money" is the name for an allowance a man would give to his wife in ye olden days for silly, frivolous incidentals.)
Also, women still have not achieved political, economic and social equality yet — and, in some ways, seem to be backsliding. I think Anne-Marie Slaughter's sobering piece in The Atlantic: "Why Women Still Can't Have It All" sums up a lot of the women/career/relationship/childcare issues well.
What would you like your readers take away from Maggie's experiences?
I'd like readers first and foremost to enjoy Maggie and her adventures. But, if they come away learning a bit more about women's enormous contributions in World War II, especially as undercover agents in the SOE, that would be wonderful, too.
What women inspire you?
Malala Yousafzai, the Pakistani girls' education advocate, who was shot in the head in 2012 by the Taliban— and then recovered and returned to school in Britain— is inspiring. I can't wait to see what amazing things she will do with the rest of her life.
There are so many women I find inspiring in history: Mary Wollstonecroft, Abigail Adams, Eleanor Roosevelt and Rosa Parks are just a few.
And Madeline Albright, Hillary Clinton, Suzanne Farrell, Mindy Kalman, Rachel Maddow and Shonda Rhimes are some of today's women I'm inspired by.
Oh, and a shout-out to an inspirational man, too: Australian Army Chief David Morrison, who made the video against sexism and abuse in the military that went viral: "If you're not up to it, find something else to do with your life." Yes!
How do you think women can work together to achieve equality?
First and foremost, we need to stay informed, not just about what we're facing in the U.S. but internationally, as well. We need to know about and speak out and act against acid attacks in India, genital mutilation in Africa, sex slavery in Cambodia — just to mention a few of the horrific things happening to women worldwide. If anyone's looking for something to read, I recommend Half the Sky: Turning Oppression into Opportunity for Women Worldwide by Nicholas D. Kristof and Sheryl WuDunn as a good place to start.
In addition, I think we as women need to:
Vote.
Support each other.
Speak up for ourselves.
Speak out against injustice.
Mentor the next generation.
And never, ever, ever take the gains that we've made as women for granted.
Follow Susan on Twitter @SusanMacNeal.